What's Next, Moving Forward
by David Brock on April 8th, 2020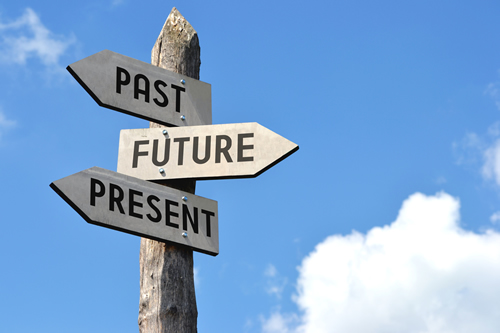 We are still in the midst of the global health and economic crisis, yet many of the conversations I'm hearing are focused on "what's next."
Some people talk refer to what's next as, "when things get back to normal." Implicitly thinking what we are going through is a momentary interruption, and, at some point, we are back to doing business and interacting socially in the same ways we were doing as little as a few months ago.
It's not unusual to think about, "when things get back to normal." As we look at past history, hurricanes, tornadoes, fires, earthquakes (in California we think about this), even tragedies like the World Trade Center; over time as the crisis passes, things start getting back to the way they were before. And, over time, we forget about them (except, perhaps, for those directly impacted by the tragedy).
Some are looking at today's circumstances–work from home, an "adjusted" economy, restructuring, and so on as the "new normal," trying to figure out the path forward from here.
I've no crystal ball, but here are some thoughts and hopes.
The way forward starts with what we are doing now. This doesn't mean we will continue to be in "crisis mode," but the actions we take today, individually and organizationally, shape our futures.
How we treat our people, how we treat our customers, how we treat our suppliers will shape our futures. Sadly, there are too many that don't value people, view customers as just a source of revenue, and do everything they can to take advantage of suppliers (for example, not paying them, asking for unreasonable sacrifices). These people and companies have always been this way, but what they do now is done at a grander scale, and is far more visible. They have a short term, transactional, self interested mindset.
As an example, just this morning I read of a major office supplies retailer refusing to pay landlords rent for the month of April. They've taken a unilateral decision, without engaging landlords in discussing alternatives.
Other organizations are undertaking vicious headcount reductions, yet the top executives aren't foregoing multi-millions in salaries and bonuses.
We see people and organizations at the other end of the spectrum. There are leaders doing everything they can to preserve jobs, to work with their customers, to work with suppliers. These people and companies recognize all of these are important to their abilities to operate now, and to grow in the future.
Several of my clients have taken "no layoff" stances for the next 90 days. They have reassured their people they don't need to worry about their jobs and are focusing them on moving forward. Others are working with troubled customers, working on payment and other plans.
What we do today is not just about today, but impacts what we do and how we are perceived as we move forward.
There's the perception what we are facing is an "interruption," and we will go back to the good old days and what was "normal." One, it's impossible to ignore what has happened and the impact on each of us, our organizations, customers, and our communities now. We can only move forward from where we are, nothing else makes sense.
But we have a huge opportunity, we are learning/relearning things that we cannot forget in the future. We must continue to leverage and learn from them, not only because they are the right things to do, but they produce results.
We have seen the impact of genuine caring–caring about our people, caring about our customers, caring about our communities. We've always known about this, but too often fail to execute on this. But now, in crisis, we see the impact of caring, why it matters and how it produces results.
We have seen the importance of the fundamentals of selling and business. Focusing on the problems you are the best in the world at solving and those customers having those problems and wanting/needing to do something about it. This has always been true, but that's all that counts now.
All of us struggle to make sense of what we face and how to deal with it. Sensemaking makes sense–it helps our people feel connected, engaged, and move forward. It helps our customers understand an move forward.
In this crisis, we've learned that no one has the answers, but by working together, collaborating, we can develop answers, make progress, even thrive.
We've learned the value of values and a strong culture in unifying people in taking action.
Even in simple things, we've relearned the power of the phone, perhaps supplemented by tools like Zoom.
All these, and more, are helping each of us, our organizations, our customers, suppliers, and communities move forward. If these work in times of crisis, imagine their power as we move from this crisis to recovery and whatever is next.
By contrast, imagine the tremendous loss if we revert to the things we did/didn't do before.
This crisis has been too valuable to waste! We have such an opportunity to do better and be better. We cannot squander this opportunity in moving forward.
Leave a Reply