Better Results From Each Activity Or More Activities?
by David Brock on March 17th, 2022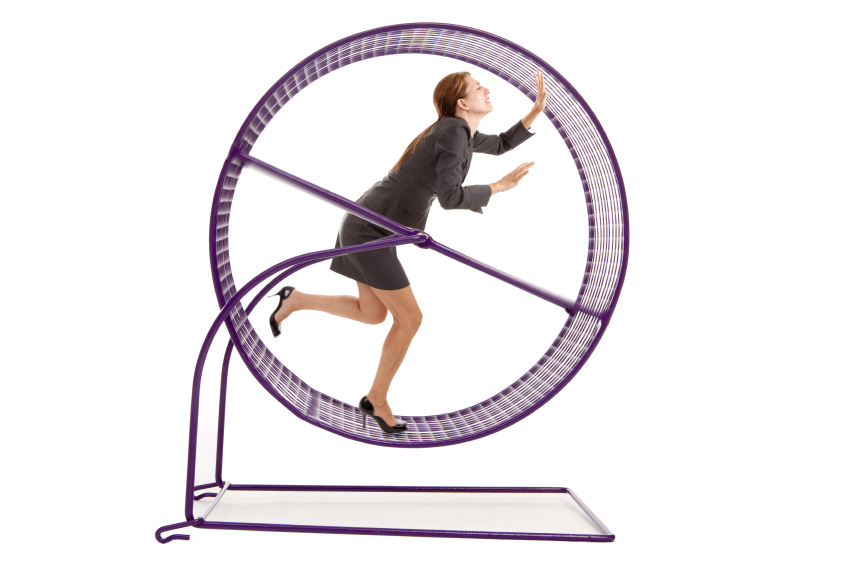 Spoiler alert, this is a trick question, but probably not in the sense that you might think.
Recently, I got sucked into a LinkedIn conversation (Yes, I have to be better at resisting clickbait). But it was a fascinating conversation started by Anthony Iannarino. It was on the importance of effectiveness and efficiency. And Chris Eckert provided a very thoughtful counterpoint in the discussion
There were several things fascinating about the discussion.
First is the observation of the myopic focus too many have on "activity." This seems to be the mantra of too many pundits, and when one looks at key metrics for many sales organizations the bias is around quantity of activities.
Look at the "expert advice" you read on social media, look at the metrics that dominate what we do. The bias is all toward activity. We set goals for daily dials, conversations, emails, meetings. We focus on number of proposals, number of opportunities, and on and on and on.
When the activities aren't producing the outcomes we expect, the answer is always the same, do more.
On top of that, we leverage technologies and other tools to help us do more in a period of time. After all, there are only 24 hours in a day, and if we can't meet our volume goals, we have to find ways of doing more in that period of time.
This focus on quantity or volume, combined with velocity gives rise to a focus on efficiency. We know the more things we do in a period of time, we are more efficient. For example, if I can move from making 500 calls a day to 1000 calls a day, I've doubled my efficiency. We look at how we leverage technology to do more in a period of time. Or we look at, how do we spend less time in each of these activities.
But there's always something missing in this discussion. We rarely look at what we are actually accomplishing with each activity. After all, we are doing these activities, we are doing them to produce an outcome or some sort of result. (Though, I'm really beginning to doubt it, I think we admire hamsters on a wheel, particularly the really fast ones.)
Look at the conversations in LinkedIn, for example. Or look at the conversations too many managers have with their people. They are always biased toward more activity, faster. We seldom discuss, "How do we get better response rates? How do we increase the number of high impact conversations for every 100 dials? How do we make sure we are looking at the right opportunities, rather than filling our pipelines with garbage?"
These are all conversations about effectiveness. These conversations focus on how do we get more out of each activity. For those of you who at least got a "C" in elementary school math, you soon realize, that if we get better results out of each activity, all of a sudden we don't have to do as many activities in a given time. (You may have to count on your fingers and toes.)
There's another dynamic in this approach. If we do better in each activity, if we create more results for everything we do, we don't have to spend as much time to get the same outcome. This frees us up to think about how we might get even better, continuing to raise the bar on the outcomes we design into each activity.
For example, in our own company, some years ago, we found that on average, we averaged 22 meetings with a customer to close a deal. For us, that created a real drain. In those days, we would have to travel to the customer for those meetings (we could do some on the phone). It usually meant an airplane trip, which took huge amounts of time and drove our selling expense up. We rethought how we designed and conducted those meetings, how we could maximize the impact and outcome for each meeting. We were able to reduce the number of meetings to close to 9 (over a 50% reduction). That freed up a huge amount of time, it actually enabled us to pursue and manage twice the number of deals we traditionally pursue, we could dramatically improve our performance. But more on this later.
There was another interesting dynamic, as we designed interactions that achieved more, the customer found they were achieving more in less time. They were becoming more productive and getting greater value out of each interaction. In some cases, it decreased their buying cycle, but the real change is it drove our win rate even higher. Because we were being much more effective in how we worked with customers, we were making them much more effective, creating much greater value.
So the reality, became rather than simply doubling the number of opportunities we pursued, we were increasing our win rates, driving much higher levels of growth.
But where are those conversations? Where are the conversations where we study the issue, "How can we accomplish better outcomes from each activity? How can we maximize the impact of each customer outreach? How do we get better?"
We accept the yields we get as physical constants, and we achieve our goals by doing—you guessed it—more.
I just saw some data from a Gartner study on the performance of different outreach channels. They looked at email, social platforms, web traffic, paid advertising and a number of other channels. The average responses across all the channels was less than 10%. Of the 10 channels they looked at, only 1 was producing better results than previous years. (Somewhat surprisingly it was email.) 2 remained relatively flat, 7 had tremendous declines.
As I look at this, I think, "We get less than 10% response rates across all our outreach channels! This is appalling, what do we have to change to increase the response rates? What might we do to raise that to 15%? Or even, how do we improve the quality of the responses we get?"
Yes, there are those conversations in many of the blogs we read, there are some conversations in marketing and sales teams and with leadership, but when we compare the number of conversations about how we get more out of each activity, to the number of conversations/time/money we spend on raising the stakes on volumes, it's hugely unbalanced.
Why aren't those conversations happening? Probably, it's because they are really tough conversations. We have to rethink what we are doing. We have to see if we did different things or things differently, could we improve the results from each activity? We have to consider if we are even doing the right things, or targeting the right people? Or maybe we are leveraging the wrong outreach channels? Or maybe we don't have the right skills or people to produce the outcome from each activity that we would like to achieve?
It's so much easier to simply do more. It's so much easier to spend money on a new tool that enables us to do more. We default to that, seldom thinking about doing better.
We get the biggest gain in the results we are able to produce when we focus on doing better. When we focus on improving the effectiveness of each thing we do in engaging our customers and working with them through their buying journey, we not only improve our results, but we differentiate ourselves from everyone focusing on volume, creating a much superior customer experience.
Let's look at another aspect of our focus on volume. What impact does this have on our customers and prospects? The more stuff we inflict on them, the more of their time we are demanding! And they don't have the time! But they are good at managing that, they just ignore, the delete, spam, don't answer phone calls, retreat from social media. And our response to these declines—–yeah, I don't need to say it. Our focus is not on the impact we have on the customer but on our own efficiency—how do we keep doing more in every 24 hours! We are on a death spirals because we are looking for answers in all the wrong places.
At the beginning of this post, I said there was a spoiler alert. The reality is both effectiveness and efficiency are important. We have to pay attention to both. We can't just focus on one or the other. But there's an important sequencing of this focus.
If we focus first on efficiency, we probably are focusing on how do more of the wrong things, or we aren't getting what we should be getting from teach activity. Taken to the extreme, we create crap at the speed of light.
We have to focus first on doing the right things, the right way, at the right time, with the right people. We have to focus on getting better results on each activity. Once we do this, we can then focus on improving our efficiency. We can ask ourselves how do we do more of these things that produce results in tsame time. Think back to the example of how my team reduced calls to close from 22 to 9. We didn't stop there and hit the golf course (OK, I did, for a while). We found we freed up time to enable us to pursue twice as many opportunities, more than doubling our business.
Improving performance is a constant process of iteration and improvement. But there is an order to doing this and getting the most out of everything we do. We must first focus on maximizing our effectiveness. Getting the most out of everything we do. Once we have mastered that, they we focus on how we can do more of those great things in the same amount of time.
And once we do this, then we have to start the process all over again. We call that continuous improvement!
For a free peek at Sales Manager Survival Guide, click the picture or link.  You'll get the Table of Contents, Foreword, and 2 free Chapters.
Free Sample
From → Accountability, Building Business, Busyness, Change, Coaching, Communicating, Execution, Future Of Buying, Innovation, Insight Selling, Leadership, Lean Sales And Marketing, Performance Metric Friday, Problem Solving, Professional Sales, Prospecting, Results, Sales Effectiveness, Sales Process, Sales Strategies
Leave a Reply