Trick Or Treat?
by David Brock on November 13th, 2020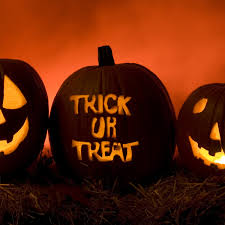 I realize it's 2 weeks past Halloween, but I am compelled to write this post. So much of the discussion about selling and marketing seems to focus on "the tricks" of engaging customers.
For example, a friend recently called my attention to a discussion, about how much time a sales person should ask for a discussion. It turns out reply rates are 61% higher for 5-10 minutes, versus 20-30 minutes.
This attracted over 100 comments (as of this writing), mostly saying, "fantastic data," others offering small refinements, "6 minutes and 37 seconds is optimal." OK I made that up, but you get my point.
Then I get the following email:
Hi Dave, Field sales has been dying for years, but COVID-19 put the nail in the coffin. The days of closing deals by working the room, while you wine and dine prospective clients is over, but what does that mean for the future of B2B sales? Millions are spent each year on Michelin-star restaurants or suites at sporting events to close big deals, and now, organizations are realizing those dollars are better spent investing in data that translates into insights for top sales leaders.

Experts behind the revenue intelligence platform, Clunk, argue the added pressure will actually make people better at sales, as long as they adopt some data-driven tactics like:

Swear! (when appropriate) – Clunk's data shows an 8% increase in close rates when the salesperson and the buyer curse on the call, compared to nobody cursing at all

Video – Clunk's data shows deals are 127% more likely to close when video is used 

Direct language – Clunk's data shows sales reps that speak directly to buyers by using the pronouns "you, your, and your team" close deals 29% more often

Would you be interested in connecting with Clunk about the future of a B2B tech world that doesn't involve in-person sales? Let me know, thanks , Claire
Every day, I run across articles with all sorts of tricks and techniques to engage prospects and customers. I get them by email, voicemails that I ignore, clumsy LinkedIn invitations—"I we share a lot of connections…"
But it seems rare that sales people try the following.
Find out what a customer is interested in and talk to them about that. It turns out customers are interested in their business, their challenges, making sense of what they face.

Focus on customers you can help, don't waste the time of those you can't.

Make the conversation about them. Try to be helpful in that conversation. Perhaps help them learn something new, look at things a little differently.

Show that you care, that they are human beings and you are committed to helping them achieve their goals.

Create value with them, don't worry about the language, worry about what you and the customer are creating together.
Interestingly, when we engage customers in this way, time flies. Conversations continue for as long as the customer has time. And they will ask for time to continue the conversation and continue helping them solve their problems. We actually continue the conversation guiding them through their buying process.
Those conversations happen across all sorts of media—over the phone, F2F, Zoom. Since it's a series of conversations, we may bridge all of those, and we may share emails and texts, in the interim. Typically, we engage others in the process, perhaps their colleagues, their buying group, specialists from our team. The conversation becomes more about the content–what's being discussed, not the medium.
These conversations seldom happen in a Michelin rated restaurant or at a sporting event. They are too important to the customer to be distracted by food or sports.
Some how we make selling too complicated and difficult–for us and for our customers.
I wonder what the data shows if we just did these simple things?
Leave a Reply