This post is the eighth post in my series on Sensemaking. I think this is where you will start to see how all the pieces fit together and how you can leverage this with great impact
For links to the other posts in the series, go to: Sensemaking, The Big Issue Facing Both Our Customers And Us.
In this post, I will put together how we can create distinctive value in helping our customers identify which quadrant they are in, and how we can help them use the sensemaking principles to help them understand solutions to their issues and actions they should take.
As a recap, the Cynefin model is displayed below: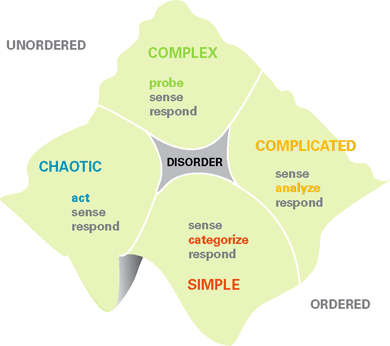 While most Cynefin experts might disagree, the quadrant a customer, or a function/department within a customer is in is dependent on their specific situation and their experience base. Stated differently, it's very contextually dependent.
While one organization might see themselves in a Complex domain, another organization in a similar situation might see it as a Complicated domain.
What happens is that we become prisoners of our own experiences. And this becomes a limiting factor as we look at our organizations, determining our course forward.
We may look at our competitors, similar functions in other companies, and so forth, but our perspectives are always limited.
As sales people, and within our own companies, we have an advantage. Collectively, we see the experiences of 100's and 1000's of customers facing similar issues, challenges, and problems. We have knowledge and experience that is not available to our customer, so our perspectives are very different.
We've all been in situations where our customers are struggling with addressing issues in their companies. They, genuinely, don't know what to do, they don't know what questions to ask, they may not know how to begin to look at solving their problems. Alternatively, they may be blind to issues that may be happening, because they don't know what they should be looking at.
Yet because we see these issues with dozens of customers a year, our companies may see them with 100's or 1000's of companies each year, the issues and solutions pop out to us, the answers may be obvious–or the path to determining the answers may be easier for us to understand.
In our own work, we see it all the time. Most of our clients are facing very challenging issues. But because I have seen similar issues in so many different situations I have an advantage–and the ability to create value–that our clients couldn't do by themselves.
So while our customers assess their situation to fit clearly within the Complex quadrant, our experience can shows us that it is actually in the Complicated quadrant–the customer just doesn't know.
Even if something is genuinely in the Complex quadrant, we have seen our customers experiment with various approaches and ideas. We have seen things that work, things to avoid, things that may or may not work. So while we our truly in the Complex domain, our path to solution and helping our customers respond more quickly than otherwise.
Because of our experience with so many other customers in addressing these types of issues, we can to a lot to help them in moving forward, but the issue is, how do we become most helpful?
Our temptation, and the error too many make is we say, "Been there, done that with 1000s of people just like you! Here is the solution….."
There are several problems, beyond arrogance, with this approach. First, each customer's situation is different, their context is different than what we've been through before. While we have been through similar situations, we have to help the customer in a context that is specific to and relevant to them.
Second, and most important, we can't give our customer the answer, we have to help them discover the answers for themselves.
Any parent has faced similar situations with their children. As much as we want the best for our children, we know what happens when we tell them what to do and what not to do. The way they learn the best is to discover things for themselves. What we do is guide and coach them, helping them learn for themselves.
If we are sales managers, we know the least effective thing we can do in developing the capabilities of our people to execute is to dictate to them, but help them discover and figure out how to be successful (sadly, too many sales managers and many in sales enablement seem committed to the opposite practice).
So we create the greatest value and the greatest ownership by the customer by facilitating their own learning process and discovery of what they should do. Whether they are in the Simple quadrant and we help them sense-categorize-respond; the Complicated quadrant with sensing, analyzing, responding, or in the Complex quadrant, helping them probe, sense, respond; we can help them learn how to navigate those steps most effectively and efficiently.
If you are a Challenger devotee, this is the root of teach, tailor, take control. This process is, also, the core of consultative selling, solution selling and other methodologies.
Now there's another area where we can go wrong, and confuse our customer. We can misunderstand how they view their issues and challenges.
If, for instance, they give signs that they are in the Simple quadrant, but we apply the approaches we would employ for the Complicated quadrant, we frustrate them, we waste their time. Where they are looking for "the answer," we are responding, "there can be many approaches or answers, let's analyze what might be best."
Alternatively, we approach it in the Simple context, focused on best practice and moving them to action, yet they are in the Complex quadrant, they will disengage. They will, rightfully, say, "You don't understand!"
Part of being aligned with customer's buying process is being aligned with the quadrant in which they perceive themselves to be.
The key advantage we have in every situation, regardless of which quadrant the customer perceives themselves to be in, is that we have the experience of having gone through similar situations with 100s and 1000s of other customers. We need to leverage this to help them navigate their journey more effectively and efficiently.
In my next post, we will look at both the dynamics of this model, how things that are Complex, move to the Complicated, then to the Simple. We will also look at how to manage customers that may, simultaneously, be in different spaces.
I recognize this is incredibly detailed and a lot to absorb. I appreciate you hanging in. We are getting to the wrap up point. But reread this in the context of what you know from each of the contexts, and your experience in working with 1000s of customers. Helping them navigate their issues is a huge differentiator.