My friend Hank Barnes wrote an outstanding post, Clarifying Objectives To Gain Consensus. In the post, he outlined a major reason customers struggle with buying is because of conflicting objectives within the buying team. We shouldn't be surprised by this, yet, based on some of the discussion it seems we are.
Let me give an analogy, we all know the example of how a group of blind people arrayed around an elephant describe it very differently. To some it's a snake, to others it may be a fan, to another it may be a wall.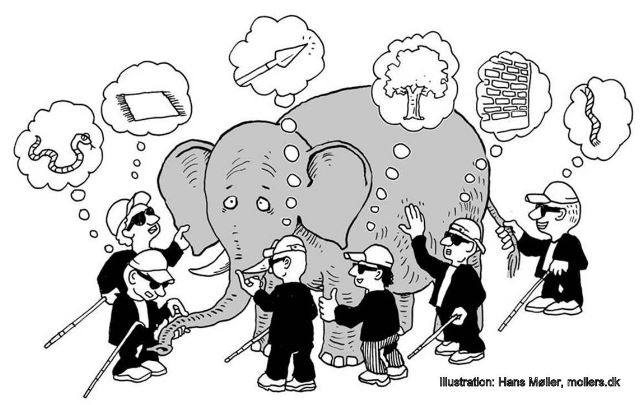 None is necessarily wrong, they are limited to their own perspectives and fail to see the "whole."
We shouldn't be surprised about how this impacts buying (or any problem solving or change initiative within an organization). Each person impacted has a different perception of the problem, it's importance, impact, or what they might do to address the problem.
Our perspectives are limited by how it impacts us in our current job, and our past experience with similar issues. There are few in the organization that have a perspective of the "complete problem," even senior executives.
So the first challenge in any buying effort is that each person involved sees the problem differently. Overlay, each person my have differing objectives and priorities in addressing the issue, as they perceive it. For some, it's mission critical, and it must be solved in one way. For others, it has less of a direct impact, or it may be a low priority. Think, for example, end users and IT organizations. For the end user, the need for a solution may be critical to their ability to do a job. For IT, facing competing requests from all sorts of organizations, the urgency to address this specific issue my be very low. And solutions they might consider good will fail to address the needs of the users.
And both are right!
It's no wonder, buyers struggle so much in their buying effort. A large number of people are involved, each with a different perspective of the problem to be solved, each with a different perspective of the ideal solution, each with a different sense of urgency, and each with a different personal agenda.
But this is not new, we've known this for decades. And as we've seen buying groups grow, we see increasing difficulty in coming to consensus. In the end it's no one's fault and everyone's fault.
But why should we expect customers to be expert at this? Afterall, in complex B2B buying, they are addressing issues they don't deal with every day. They may have never done this before. Or if they have, it may have been years ago, and the situation and people involved were very different.
They may, in fact, be unconscious that the problem looks different to other people. The person standing in front of the elephant's trunk, defining it as a snake, bay be unaware someone is a few feed away describing the tusk as a weapon.
But this is where sellers can create huge value. We see others with these issues everyday, working with them to solve their problems. We know there are very different perspectives. We know who should be involved, and might suggest the customer engage others impacted by the issues. We have a better perspective of the "whole problem," than the customer may have.
Also, because of our experience with other buyers, we know how to help them see the other perspectives, developing a richer understanding of the issues. We can provide great value working with them to align both their understanding of the problem, but also aligning around the objectives and urgency in addressing the problem.
We also know that things change through the buying process. Objectives, priorities, agendas change. People involved in the process may change. Other priorities may divert attention. Again, it's not any individual failure, but just the way people and organizations work.
And all this stands in the way of our achieving our goals and objectives. We are hoping to win an order, but until the customer completes their buying process and aligns around a solution, we can't succeed.
Again, because of our experience, we can not only help the customer align around the objectives and urgency of the project. But we can help them successfully navigate the process of solving the problem without getting derailed. We can recognize the conflicting interests, and objectives that might arise, help the customer understand those and gain/maintain consensus through the buying process and into implementation.
But if we fail to do this, both we and the customer are highly likely to fail! Not because anyone may have wanted the project to fail, but just because we failed to maintain alignment around the problem definition, objectives, goals, and project plan, and we failed to maintain consensus.
How are you helping your customer navigate this process?