Does Your View Of Value Limit You And Your Customers?
by David Brock on March 2nd, 2016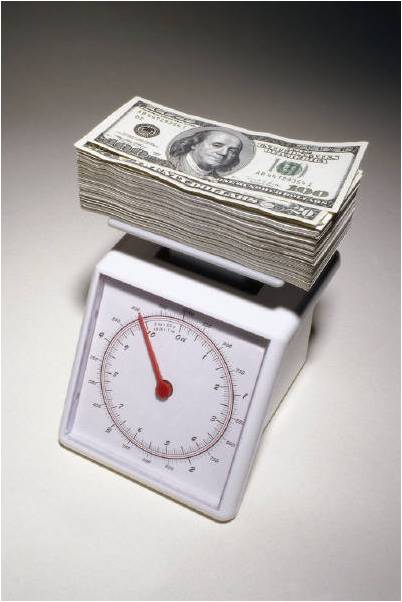 Value is one of those $25 words everyone talks about.  We all want to talk about our value and value propositions.  But we have huge variations in the way we interpret value and the way our customers interpret value.
Value in it's simplest form is price.  Unfortunately, that's where the majority of sales people compete.  They provide the customer with their best price, crossing their fingers, hoping to win.  The customer is left with the challenge of which alternative to choose.  Since, inevitably, all the alternative will meet their requirements, the only differentiator becomes the vendor offering the lowest price.  Customers still struggle, their job isn't over, they still have to justify the investments they are making to their management.  A lot of "done deals" get undone at this point, so even if our price has been the lowest, we don't get a PO.
Some sales people, unfortunately far too few, go a step further.  They provide a business justification for their solution.  It may be a cost benefit analysis, they may have calculated ROI, NPV, Payback.  That's a huge step forward.  It changes the basis for comparing alternatives, because it focuses on return the customer will expect to receive.  There are still some challenges with this, and value that we leave on the table that could be claimed by both the customer and us.  Most of the time, we are looking strictly at the business case for our solution, not the business case for the customer project.  We may just be a component of the solution, so we aren't helping the customer understand the entire picture.  Maybe we've done a TCO, which should look at the entire project over it's life cycle.  But there are a number of other things the customer has to consider in their business case.
Risk is a huge part of what the customer has to figure out.  This is both risk in the project success and in achieving the long term outcomes which is why the customer initiated the project in the first place. (That last part is often called value realization.  I'll be coming back to this later.)
The other challenge the customer faces is justifying this investment to their management.  Their managers are responsible for determining how to best invest in various projects that compete for funding.  To get what they want, the customers presenting our solution have to position–justify the project in terms of how it contributes to the attainment of the strategic goals.  Only the best alternative will win.  But too often, our customers don't recognize they need to do this, or don't know how to do this.  Unless, we've understood the company priorities and goals, unless we've helped the customer connect the dots from this project–what they want to do–with the strategic priorities of the company, they won't get the funding.   We don't get the PO.
The next level is value realization.  Are they actually getting the value we claimed in the first place?  Did they get the results expected.  Too often, we ignore this.  After all, we and the customer don't know until sometime after we've gotten the PO.  It could be months or years.  We've already spent our commission checks on the deal.  But value realization is critical to the customer.  If they don't realize the value expected, they have failed.  It may mean a failed product launch, adversely impacting the perception/competitiveness of their company in the markets.  It could be a failed internal project.  They don't achieve the cost/expense reductions expected.  They don't achieve the quality and customer satisfaction goals they expected.  They didn't achieve the margin or profitability improvements expected, They didn't see the revenue uplift expected.  Failure to realize value has huge business consequence for the customer–they could, in fact go out of business.  It also has huge personal impacts for the customer, they could lose their jobs.  The impact of not realizing the value expected can be devastating.  For example think of Takata Airbags and the impact on automobile manufacturers, dealers, and customers.
People in SaaS, embedded products, or similar types of business are seeing the importance of value realization.  Customers simply aren't renewing their contracts.   When the contract expires, the customer doesn't renew it.
This challenge also applies to outright purchases.  If the customer doesn't get the value they expected, they won't buy again–for the upgrade, the next project, the cross-sell opportunity.  They might even become a negative referral, impacting potential business in the rest of the market.
So making sure our customers realize the value claimed is critical for their and our future success.
But there's more.
We know 60-70% of project end in No Decision Made.  Most of the time it has nothing to do with selecting solution alternatives, but it has everything to do with the customer internal project success.  These are customers who have already recognized the need to change!  They have committed to a project and a project team to develop a plan, drive the change, realize the expected value.  But they struggle to align themselves, their agendas, their goals/priorities.  They struggle with the project itself, often failing before they started their buying journey.  They recognized an opportunity to change, that there was business value to be seized or realized, but they fail to realize it before they even start.  As a consequence, an opportunity for us has disappeared.  Getting that opportunity restarted is very difficult.
To address this challenge, we have to think of value differently, not just the value of our solution–to be realized at some future point.  But the value of helping them solve their problem so they can realize that value and we get our PO.
Just think about this issue from pure selfish motivations–getting PO's.  If 60-70% of projects end in no decision made, we are leaving twice as much real, qualified opportunity unaddressed.  We and our competitors are only getting 30-40% of the real opportunity available.  There is the 60-70% where a customer has been committed to taking action, but they blow up before they can take action, or before they select a solution.
Making our numbers seems trivial in the face of this!  All we have to do is help our customers become more successful in the early stages of their change management projects!  We focus on a different type of value, value creation or value in the process.
Of course, this requires changes in what we do and our own capabilities.  We can no longer wait for the customer to reach their 57% before engaging them.  Many projects with customers having a real need to buy will have blown up long before this.  We have to be finding and engaging customers much earlier.  We have to be helping them with their project, not focusing just on demonstrating the value of the solution.  This means new skills, both in prospecting, change management, project management, and facilitation.
It's not over yet.  What about the biggest part of value that we can create and claim?  What about those customers who don't even recognize the need to change?  They may be struggling, knowing something's wrong but not doing anything about it, except working harder.  They may be settling, thinking good enough is good enough, when they are losing share, there are emerging new competitors, and their future is threatened.
From a selfish point of view, these are easy opportunities to spot.  All we have to do is look at the underperformers in our markets.  Or even those whose performance is OK.  We have to be able to engage them in meaningful conversations about the costs of doing nothing.  We have to incite them to see the potential value that can be realized. and guide them in the journey to realize that value.
Our perspectives of value can seriously limit us and our customers.  The majority of sales people focus purely on price–minimizing the value they can claim in competitive situations.  Those that develop rich business justification models are doing better, but aren't claiming as much value as they could.  Consequently, they are missing huge growth opportunities, both now and in the future.
Changing our perspectives, having a much larger view gives us the opportunity to at least double our own business volumes.  More importantly, it cements our value and leadership position with customers by helping them achieve and realize more value.
The key issues are:  Are you hungry enough to chase this opportunity? Do you have the skills and tools to change your engagement model?  Do you have the skills and tools to provide the right value to the customer at the right time?
Leave a Reply