What's The ROI Of Stupidity?
by David Brock on June 1st, 2014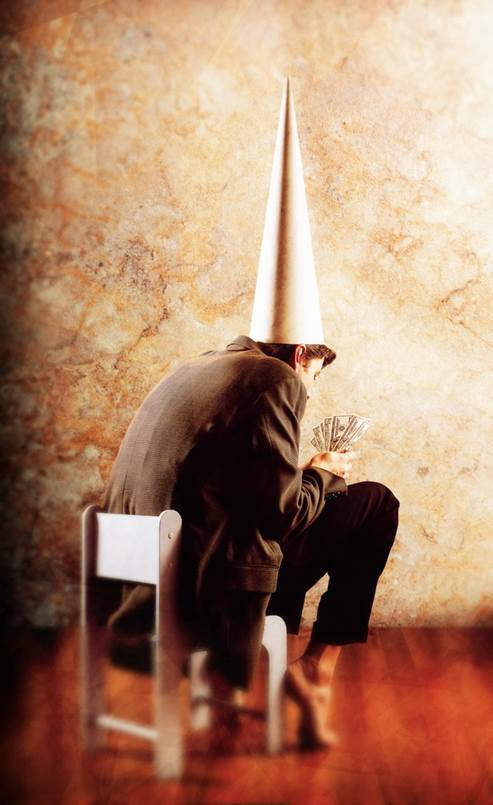 I wrote,  How Can We Deliver Insights Without Critical Thinking Skills?  Along with Mike Kunkle's 22nd Century Selling Skills presentation, it's stirred up some interesting discussions.
My friend, Gary Hart, stirred the pot a little by posing the question, "Is there an ROI in developing critical thinking skills?"  I think it's an awesome question, I think unconsciously, that may be in the minds of many business and sales leaders as they look for solutions to help improve the performance of sales people.
I suppose the case can be made that we don't need to invest in developing the critical thinking/problem solving skills in some product/solution categories.  In fact we see billions of dollars a year done though ecommerce, shopping cart sales, electronic trading networks.  Companies like Amazon have changed the face of B2C selling, innovating (Hmmm, sounds like critical thinking), and destroying whole categories of Bricks and Mortar sales outlets, not to mention eliminating 10's of thousands of sales jobs.
Undoubtedly, there are fledgling companies innovating new business models that will throw Amazon.
That's what innovation is about.  It's constantly rethinking, and challenging the status quo.  It's about developing new business models, looking at things in ways that have never been considered before, developing whole new approaches.  In every segment of society, in every business, in every job we see constant change, innovation, improvement.  Underlying the ability to do this is the ability to think critically, analyze, and solve problems.
In recent years, we've seen many thoughtful studies about the profession of sales and what separates top performers from others.  Research done by the CEB and published in Challenger, research done by the Rain Group and published in Insight Selling, thoughtful research done by CSO Insights, Forrester, Sirius Decisions, Gartner, and others.  We see thoughtful books like Jill Konrath's Agile Selling offering similar observations.  While the results of each are a little different, there are some underlying commonalities.
Buying has changed, and buyers look for vendors to engage them very differently.
What top performers do has changed and they engage buyers very differently.  In this, lots of words are tossed around like Challenger, Insight, Provocation, Agile, Consultative, and so forth.  But underlying each of these are some commonalities–top performers engage buyers differently, they get buyers to think differently, they think and act differently.  And the results they produce, both for their customers and for their own organizations are profoundly different than the rest of sales organizations.
General sales performance is down, win rates, reps making quota, and so forth.  But there are profound differences in performance between the leaders and everyone else.
All the data identifies similar dynamics.  Underlying these performance differences are several constants:  Constant innovation, constant change, constant improvement, constant learning—and what drives this is critical thinking, analysis, problem solving, and a dose of collaboration.
So while all the data and learned opinions point to the need for raising the skills and capabilities of our sales people, so much of the actual implementation seems to be going the opposite direction.  "Let's dumb things down, so even the sales guys can do it."  We do this through leveraging technology inappropriately, over reliance on scripting, over-engineering the sales process, micromanagement, focus on compliance, formula driven sales enablement, and other things designed to remove thinking from the process.
We, also, see sales executives struggling with challenging decisions:  How do we continue to drive growth, performance, productivity, efficiency?  How do we manage change?  How do we manage the cost of selling?  How do we do more with less?  The answers to these questions are tough and varied.  While addressing these issues for the short term, they have to be balanced with a long term view–so the decisions managers make today have to support long term growth and sustainability.
People, talent management, talent development is critical in all aspects of business.  We have to seek to attract and retain the best people we can.  We have to train, coach, develop them to maximize their performance and long term contribution to our organizations.  We have to help them achieve their full potential.  We have to provide the tools, resources, to help them perform, as effectively and efficiently as possible.We have to do all these things, not just because it's the right thing to do with our people, but it's critical to our business success.
Complex B2B sales is all about people (well all business is about people).  It's through smart, motivated people that we innovate, create, improve, change, and learn.  It's through thoughtful conversations that we have with customers that help them do this–constructing great value in the process.  If we are to offer leadership to our customers, if we are to outperform competitors, if we are to grow our own capabilities–leading our segments, responding to new threats–both to our customers and ourselves, we must excel at critical thinking, analysis, and problem solving.
The alternatives are going out of business–being lost because we became irrelevant to our customers and markets.
So Gary raises as very provocative and thoughtful question, "Is there an ROI on critical thinking?"
But to me the more important question is, "Is there an ROI on stupidity—or even mediocrity?"
Leave a Reply