It's clear that customers struggle to buy. The majority of complex B2B buying journeys end in no decision made. What we traditionally thought of as a relatively linear journey is now depicted as shown below.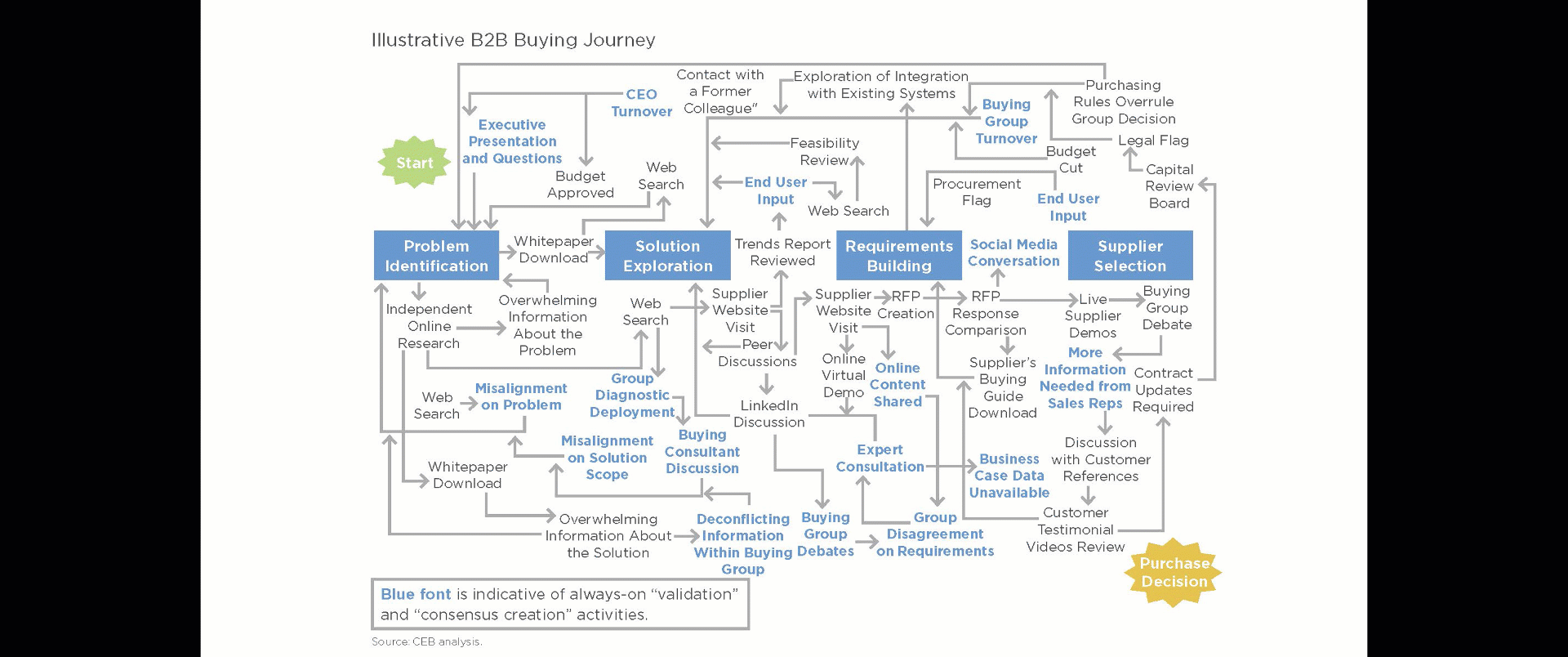 It turns out the challenge in B2B buying is not what we have traditionally thought, or what we have trained our people do to: Help the customer select a solution (Ideally ours).
Our customers struggle. They are trying to solve a problem, part of that involves buying something. But they struggle to align agendas, priorities, to identify how they will make a decision. They start, stop, things, change, they restart. They wander through the buying journey and, more than 50% of the time, abandon the journey some way through the process.
But what have we done with our sales people? Most of the time, we focus them on "pitching our solutions." Ironically, the customer can learn this independently, so pitching solutions doesn't help them move forward in the process.
We may want them to be consultative or solutions focused. We teach them a selling process–or even a buying process, but we treat that as a linear approach: Qualify, Discover, Propose, Close–alternatively, Problem identification, Needs/Requirements, Evaluate Alternatives, Select Solution.
Even in the best of circumstances, how we train our people, the skills we focus on developing do not prepare them to address the challenges our customers face in buying.
We need to focus on new and different skills, skills that enable us to help our customers better navigate or make sense of their buying process.
These skills include: Curiosity, critical thinking, problem solving, project management, collaboration/facilitation, systems thinking. Our people must be comfortable with dealing with ambiguity, risk, uncertainty. And they must have the abilities to instill the same things in our customers as they try to make sense of what is happening to them, what they are doing, and how to achieve their goals.
We face a crisis of our own, that is, "Do we have the people that can do this? Are we training and coaching them to help our customers navigate their buying journey? Are our people equipped to help our customers make sense of what they face and to move forward.
Our customers are looking for help, they are struggling. The issue they face is no longer solution selection–virtually any solution will do. They will gravitate to those that can best help them make sense and navigate the complexity and uncertainty they face every day.
If we aren't recruiting and developing people that have these abilities, we will no longer be able to create value with our customers. We will struggle to achieve our own goals.
What are you doing to prepare your sales people to meet this challenge?