Sales And "Product Led Growth"
by David Brock on January 16th, 2020
The world goes through constant cycles. Lately, there have been a lot of "Aha, we've discovered the secret" posts and eBooks on Product Led Growth and the role of sales people.
We can go back in history, as far as you choose, learning this hot new discovery is actually not very new. We have seen it in mobile devices, PCs, financial services, every segment of software, design tools, analytics, consumer products, food/food service, social platforms, and on and on and on.
Let's face it, Hot Products Sell!!
There are certain products/brands, where the products just seem to leap off the shelves.
These people that think it is all about the product (and they aren't totally wrong), identify a small number of big names as success stories. Current platforms on many "hit parades" include Slack, Zoom, Dropbox, Twilio, and so forth.
There's no doubt, they have developed products that have captured the hearts and minds of buyers. Their growth is clearly product driven……
But then I remember Wang Labs, Sun Microsystems, Digital Equipment Corporation, Apollo Computers, the original Motorola phones (Remember the Startac), Nokia, Palm, Blackberry…..
There are hundreds of carcasses of truly outstanding product driven companies, which had the hottest products on the market, that no longer exist, or have shifted dramatically.
What most of the product led growth crowd don't acknowledge is the mechanisms around market maturity and sustained growth. What they also don't acknowledge is the 100's to 1000's of companies thinking they were developing the next hot product, but never gained traction.
The reality is Hot Products and the Product Led Growth benchmark companies are very rare.
Let's dive in a little more deeply.
First, product driven growth is relatively short lived. Geoffrey Moore characterized much of this in his classic books line Crossing The Chasm.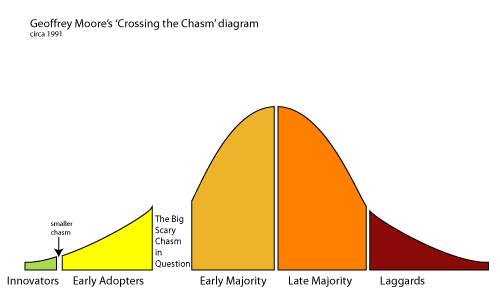 Product Led Growth is probably a characteristic of customers who are "Early Adopters," or in the leading stage of "Early Majority." As time progresses, alternatives/copy cats arise, customer knowledge and maturity increases and the ability to sustain growth through a pure product focus becomes impossible.
Second, as you look at Product Led Growth companies as they mature, they shift their models, they recognize they can't sustain their growth just on Hot Products. They start shifting to a richer and more diverse value proposition–one not focused exclusively on product innovation. Customer service, more complete offerings, different sales engagement models, rich partner networks, and other many other things become more important in sustaining growth.
Some of these Product Led Companies have created great mythologies around "We don't have sales people." But dig deep and research them. After a period of time, you find people acting as sales people–even though they might not have sales titles. You see these companies adopting the sales models that drive success, based on the maturity of the solutions, markets, customers. So they become less Product driven and more solution, engagement, value driven. Those that don't become carcasses.
Third, developing Hot Products is tough. We always refer to the same handful of Product Led Growth companies. We revel in their success, we copy and emulate what they do. And there's where the model breaks down. It's hard to develop Hot Products by copying or emulating other Hot Products or hot product companies.
In the sales and marketing automation space alone, there are 1000's of offerings, but how many break away, sustainable Product Led companies are there? How many end up failing, being acquired, or recognizing they aren't Hot Products, but they are great solutions needing a different sales approach.
Fourth, one of the features of Product Led Growth companies is the ability to leverage users as advocates of products. But go back to Moore's charts. That's simply a characteristic of customers in the early adopter segment, but as the markets mature, as alternatives arise, as customers get smarter in the early majority, late majority, laggard stages. this advocacy changes or disappears. As a result, we have to change our strategies, we can no longer rely, primarily, on customer advocacy as a key driver to growth.
I could go on, but let's stop here. Let's shift to what this means from a sales point of view. Moore's curves give us great clues about how our sales engagement models can never remain stagnant. As our customers change, as our markets, customers, solutions mature, we have to change our sales engagement models to more effectively engage customers.
The sales strategies and deployment models in each stage in Moore's curves are very different. Sales strategies that worked with early adopters fail completely in later stages. Sales models that work in later stages are ineffective with early adopters.
The people, processes, programs, strategies, tools, channels critical to sustaining growth. The investments and resources we put in place. Aligning with how people buy will always change. It is incumbent on sales leaders to continually assess their customers, markets, product maturity, evolving the models that are most effective and efficient for the time.
No sales model, no business model is forever!
It's easy to be distracted by the latest Unicorn, and Hot Product. It's easy to think, "What if we did the same thing?" It's easy, if you are one of these Product Led Companies, to be seduced by your success and failing to recognize your customers and markets have changed.
Sometimes, it's useful to look back in history. Too often, we think we are new, innovative and different. We have a Hot Product.
Then we realize the 100's of great brands, products, logos that have been long forgotten or become the fodder of case studies on bad strategy, loss of direction.
Leave a Reply