Learning From Failure
None of us like to admit failure, we tend to want to celebrate our successes. We have a mindset that says, "Do more of what causes you to succeed!"
I suppose it's human nature to accentuate the positive, but I think it limits us, individually and organizationally. Success is not the strict opposite of failure. Focusing on why we succeed limits us to understanding a small subset of the opportunity. It limits our ability to learn, grow, and achieve.
It also blinds us to the need to change. Our, our competitors, and our customer's worlds are constantly changing. By limiting ourselves to what has always worked, we, increasingly limit our ability to succeed.
One might visualize success and failure in the following way: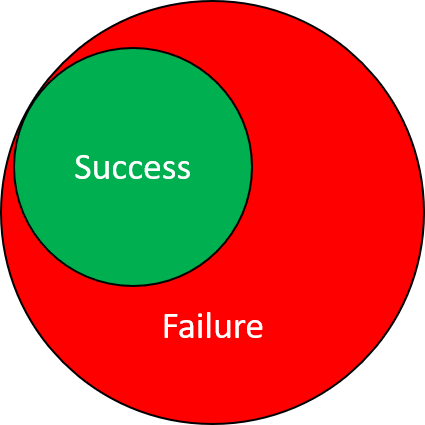 While the relative size of the circles may vary, our failures will always exceed our successes. Even if we have 100% market or customer share, that is never sustainable. Things always change!
Literally and philosophically, our failures offer us the greatest opportunity to grow, to innovate, to do new things.
It's odd, other disciplines embrace this concept of failure. It is the foundation of all scientific thinking, it's embraced as a "mantra" in most of Silicon Valley. There are thousands of stories of inventors and entrepreneurs failing until the succeed (and some are pure fiction).
The reality is we probably fail more than we succeed. By ignoring our failures, reveling only on our success, we miss opportunity. Ir
Paradoxically, by understanding why we fail, we increase our success!
For a free peek at Sales Manager Survival Guide, click the picture or link.  You'll get the Table of Contents, Foreword, and 2 free Chapters.
Free Sample