We Can't Ignore Poor Performers!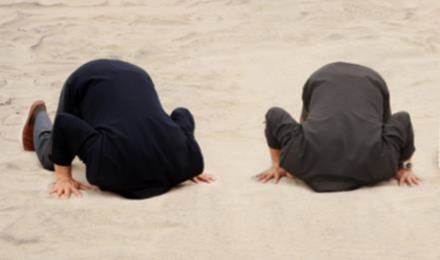 Every organization has them, the bottom 20%, the people who are not meeting our expectations of performance.  They're a problem–for themselves, for their managers, for the organization, and for your customers.  My friend, Mike Kunkle wrote a great post on this, Focus On Your Average And Poor Performers To Improve Sales.
Too often, we just ignore them.  We shut them out, we don't spend time working with them.  When we do, they have the potential of sucking up management time.
Ignoring poor performers is the worst thing we can possibly do.  Yet hundreds of blog posts would imply that you do.  They suggest, "spend your time with 'A and B' players!"  Others quote data, a 1% improvement in performance of an "A" player is worth much more than the same in a non-performer.  So there is lots of talk about the value of coaching high and aspiring high performers, and very little mention of what to do with everyone else–particularly the poor performers.
Somehow, we tend to ignore the poor performers—and that's a bigger problem than the poor performers themselves.
We don't like dealing with them–they drain us, the discussion focuses on problems, not opportunities.  There is conflict, potential for confrontation, which too many tend to avoid.
When we do choose to address poor performance, it gets really complicated.  If we intend to fire  them, the we have to get HR involved, we have to go through all the stuff they make us go through–90 day plans, measured miles, and so forth.
Too often, we just ignore them.  Perhaps we wait for the next layoffs, taking care of problem performers by laying them off rather than all the hassle of terminating them.
Or we just ignore them–out of sight, out of mind.  We go along blissfully ignoring the problem poor performers create–more importantly the problem that managers who ignore poor performers create.
Poor performers cannot be ignored.  If they are the real performance problem is with the manager, not the performer.
Poor performers are a drain on the organization.  If management tolerates poor performance, then poor performers suck the performance of the whole organization down.  Everyone performs lower than they are capable of performing.  Poor performers take time–from everyone they encounter.  They take more management time than they should, they suck time away from peers–either through asking for help, or through distraction.  They suck the morale out of otherwise high performing teams.  Their poor performance draws the attention and potential ire of everyone.  Moreover, they drive customers into the waiting and hungry embrace of your competitors.
We cannot afford to ignore poor performers.  We have to invest time in fixing their performance.
Termination may be the right answer-for the poor performer and the company.  But we can't arbitrarily terminate people without making sure that's the right thing for the business and for them.
Performance problems are seldom an issue of just the individual.  We may have hired the wrong person.  We may not have identified performance issues early–when they are small and more easily fixable through coaching.  We may have put the right person into the wrong territory or job.  We may have failed in helping them develop the skills necessary for success.  We may be confusing "not liking" someone with "performance issues."  However you cut it, management bears a huge part of the blame an responsibility for performance problems.
It's our responsibility as managers to  deal with both our mistakes and the performance of the individuals.  We cannot ignore them, we cannot sweep them under the rug, they will keep coming back, biting us in the ass.
We need to quickly assess, can we get the individual to acceptable levels or performance, in the timeframe we need?  If so, are we willing and eager to do it–or have we already written the person off.  Are they willing and eager to do it, do they have the commitment, and, with our help, can they develop the capability.
I've covered a lot in these last few sentences.  The biggest mistake I see too many managers make, is fairly or unfairly, they have already emotionally written some one off—whether they are recoverable or not.  So any performance improvement process is predestined to fail—this is a management problem, our own attitudinal problem–which cheats the individual and could cheat the organization.
If we choose to put in place a performance improvement plan, because both we and the individual are committed to a successful outcome, then we have to work the plan–actively.  It's not a box we check, it's possibly daily involvement in making sure the person can be successful and sustain acceptable levels of performance themselves.
We owe these things to the individuals, to our companies, and ourselves–only if everyone involved is genuinely committed to the performance improvement process, and a positive outcome.  If we choose this course, mutually, we must commit the time required to achieve success.
If the problem performer is not committed to a successful outcome in the performance improvement plan, then it's a waste of time and resources.  If you company mandates it, try to get an exception.
If the problem performer is committed, but we aren't, then we are wasting everyone's time, unfairly for the individual, and shouldn't go through the performance improvement process.  The outcome is predetermined.  (Although the manager's manager now has a performance problem on her hands–that of the poor performance of the manager.)
Regardless of the outcome with the individual, the performance problem isn't just that of the individual.  The performance problem is "how did this occur in the first place?"  Did we make a bad hire, was there a bad onboarding process, was there a fundamental change in the business the person wasn't able to internalize…….?  We need to understand how all this happened in the first place, addressing those issues as well.
It's way too glib to say managers need to be investing their time in developing high and aspiring high performers.  We have to look at the performance of everyone in the organization.  We have to invest time in everyone, not necessarily equal time, to make sure they are performing as best possible.
We cannot ignore the poor performers, if we do, then we are performing poorly ourselves.