The Early Bird Gets The Worm–Lessons For Sales
by David Brock on April 3rd, 2012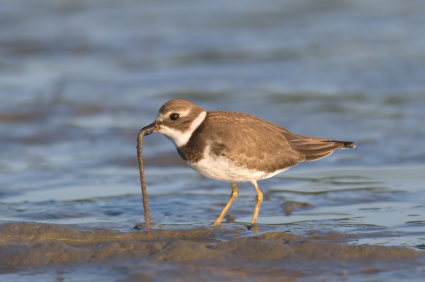 We all know customers are changing the way they buy, driving changes in the way we must sell.  The traditional role of a sales person as an "educator," is disappearing.  It used to be that customers relied on sales to learn about new solutions and how they could use our products to solve their business problems.  Customers, now are leveraging the plethora of information on the web–displacing the need for sales to educate and inform.
This drives real changes in the sales process–it pushes sales engagement with the customer to much later in their cycle.  Customers leverage the web, leverage the content our companies are providing in our nurturing programs.  They are determining what they need and which alternatives they want to consider before sales is even engaged.
Finally, they've gone through the process, they understand their needs, they've pre-screened solutions, and narrowed the alternatives to a short list.  Then sales jumps in…….
I see many sales executives and people enthused about this—it's "shortened" the sales cycle, we're dealing with customers who are seriously qualified, all we have to do is present our solution and close.
This trend terrifies me.  It's similar to responding to the RFP that I haven't written–the probability that I will win is very low.  My ability to create real value is seriously constrained.  If, in narrowing the alternatives, the customer views each solution as a possibility, we're probably restricted to competing on price.
This trend is dangerous–for sales, and for the customer!
There are real problems with this trend.  I'll highlight only a few:
First, it assumes the customer has perfect knowledge of all their needs. It assumes they know what is possible in implementing new solutions and all they need to do is find those solutions that enable them to achieve their goals.  The reality couldn't be more different.  We're all prisoners of our own experiences.  It colors the way we look at things and analyze things.  It blinds us to new opportunities and improvements.  Web based research is based on the customer's view of the issues, it helps them identify answers to things they know they don't know—but they completely miss what they don't know that they don't know.  The value of sales engagement is to challenge customers in these areas–to help provide a broader perspective, to help them realize things they may have never imagined or thought possible.
Second, it assumes all the information on the web is true, current, accurate, and unbiased.  Hmmmm…. I guess I don't need to say anything more
Third, it assumes the customer knows how to buy.  It assumes the customer is experienced, understands how to organize themselves, how to manage conflicting priorities within their organizations, and how to navigate the decision making process.  Unless they are procurement professionals, this is unlikely to be true.  Take for example a complex financial management system—how many times in a CFO's career does she make a selection for a financial management system—probably no more than 2-3 times in a career.  Customers don't know how to buy, they don't know how to navigate the process effectively and efficiently.  Sales can create great value in facilitating the customer's buying process.
The new buying doesn't mean sales engages the customer later than they have traditionally.  In fact, the new buying–and the new value creation demands sales engages earlier than traditionally—in fact, the very first customer engagement may not be from a marketing program, but rather from sales.
Now freed of the role of "educator," sales can step into the role of business strategist–for their customers.  They can help the customer see new opportunities to grow their business, to see possibilities for improvement they may not have imagined, to find ways of accelerating the ability for customers to achieve their goals, to identify threats and strategies for the customer to overcome them.
Today's sales challengers engage the customer before they know they have a problem.  They help the customer understand the need to change.  As a result, they have tremendous influence in the way the customer shapes their definition of "the problem," and the process by which they will buy and evaluate opportunities.
Sales maximizes their impact, maximizes their value, maximizes their probability of winning by being there first and providing meaningful leadership to the customer.
For a free peek at Sales Manager Survival Guide, click the picture or link.  You'll get the Table of Contents, Foreword, and 2 free Chapters.  Free Sample
Leave a Reply