Have you ever put together a jigsaw puzzle? Recently, I was sitting in a hotel lobby. The staff had put out one of those 1000 piece puzzles. It turned out to be a fascinating social experience–strangers were sitting down together, trying to place pieces in the right spots. It was huge fun!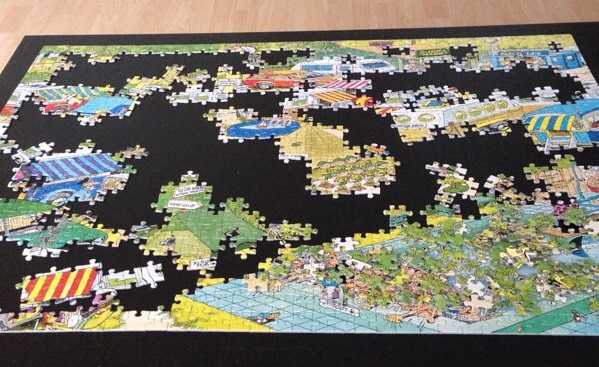 Puzzles are interesting, and they are an intriguing metaphor for sales. The pieces of the puzzle don't make any sense by themselves. A single piece of the puzzle is meaningless, we don't understand the picture, we don't even know where/how it fits.
But taken together, all the pieces of the puzzle create very complex images.
If a piece of the puzzle is missing, the picture can never be completed. Each piece of the puzzle only achieves meaning in the context of the whole picture.
Sales is like a very complex jigsaw puzzle. All the "pieces/parts" of selling are meaningless when taken alone. But when they come together, they enable us to produce phenomenal results for our customers and companies.
Too often, we lose sight of the whole picture of high performance selling. We are seduced by the lure of "do this one thing," (or whatever number is being promoted by someone who has something to sell).
It's interesting to watch the dynamics of a group of people trying to put together a complex jigsaw puzzle. Like selling, sometimes it helps to focus on certain parts of the puzzle. For example, trying to find and position all the edge pieces, or focusing on a dominant part of the picture.
This is how we deal with complexity. We break things into smaller, more manageable parts, focusing for a few moments on those. But we can never lose sight of the "whole." We can never complete the jigsaw puzzle just by focusing on one part of the puzzle. We have to do all parts of the puzzle.
This is the mistake too many people make in selling. Too often, people think, "If I just do this part well, everything else will fall into place."
At times, we have to focus on certain things, it may be opportunity management, we may even drill deeper to look at qualification, discovery, developing business justified proposals., guiding the customer buying process. Alternatively, we need to build our pipelines by prospecting.
As one watches people working on a jigsaw puzzle, while for a period of time, they may focus on one area, they constantly change and shift. Focusing first on one part of the puzzle, then moving to another, then another. They end up balancing their efforts across the entire puzzle, looking at the whole thing and the fastest paths to completing the entire picture.
But unless we do everything, in balance, we never complete the puzzle, we never achieve our goals. Effective selling, achieving or exceeding our goals requires us to master and execute all parts of the job, not to focus on those we like.
The same applies as we look at sales leadership. Too often, we focus on just one part, or certain people. But our job is to do the whole job. We have to maximize the performance of everyone on the team. We have to make sure all parts of the organization fit together, complementing each other and contributing to the organizational goals.
Are you putting together all the pieces parts of the sales/sales leadership puzzle? Are you mastering all parts?
Afterword: The Sales Execution Framework (SEF) was designed to help understand the pieces/parts of doing the complete sales job, and where to get the biggest leverage. Just ask if you want a copy.