What Sales People Can Learn From High Jumping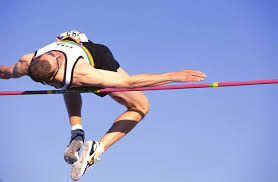 High jumping is a fascinating metaphor for sales success, at least in my mind.
First, it's the only competitive sport I know where to be successful, you have to first Flop.
OK, maybe I'm stretching things a little–by now you're used to my perverse and twisted humor.  In 1965, Dick Fosbury revolutionized the world of high jumping with his creation of the "Fosbury Flop."  His technique enabled high jumpers to clear jumps that were unimaginable with other techniques.  The Fosbury Flop is still the dominant style of jumping today.
For my non American readers, Flop is also a synonym or slang for failing.  If something has been a Flop, it was a failure.  We tend to think of failures as bad, but when you look at all high achievers, all have failed or flopped in some way.  What they learn as a result of the failure (in many cases, multiple failures) is critical to their personal growth and ability to succeed.
The second thing that's cool about high jumping is that to win, you have to continually "raise the bar."  To compete, you have to face competition that's raising the bar, as well.  In high jumping, you can't be a world class competitor by continuing to jump the same height, year after year.  If your competitors are raising their game, they are literally raising the bar.  To win you have to raise your level of performance and jump higher than you have before and jump higher than the competition.
It's one of the biggest performance challenges I see with too many sales organizations.  They're happy with what they have always done, the way they have always done things.  They don't raise the bar on their own performance, seeking to continually improve, outperforming their competitors-and customer expectations.  They don't raise their own expectations of performance, raising the bar on themselves.  As a result, they become complacent, losing their edge and ability to win.  They struggle when customers or competition raise the bar–whether it's customer expectations increasing, or stronger/tougher competitors.
We live in worlds of constant change.  Expectations from customers, expectations within our own companies are constantly increasing.  Competitive pressures are constantly changing and getting tougher.  Matching our performance of previous years means we will fail this year and next year. (Here's that Flop word again).  In order to win , we have to continually change, improve, learn.  We have to raise the bar on our own expectations of performance, at the same time, raising the bar for everyone else–making it more difficult for them.
Just like the high jumper, we all have Flopped.  We'll Flop in the future.  But it's what we learn from those experiences, how we change and adapt that enables us to improve and win.
Just like the high jumper, we know the bar is continually being raised.  Our customers expect more, our companies expect more, our competitor expect us to do more.  Even if we are already the best, if we are the top performers, we have to raise the bar on ourselves, continually achieving higher levels of performance.
For a free peek at Sales Manager Survival Guide, click the picture or link.  You'll get the Table of Contents, Foreword, and 2 free Chapters.  Free Sample