Starting At The Top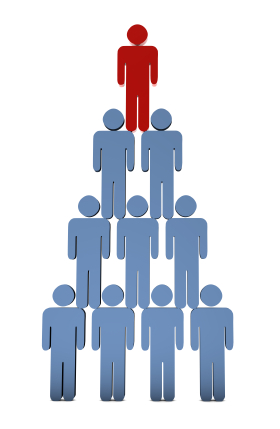 There's the old adage–still promoted in way too many sales training workshops, articles, and blogs:   "Start at the top!"  It's wrong, it's dumb, it's laziness, it's an indicator to the customer that you don't understand their business.
Don't get me wrong.  Decisions are being pushed higher in organizations.  More people are getting involved, so we have to be calling higher and wider.
But the most appropriate level to start your sales prospecting is the highest level of someone who cares—and no higher!  Why?  Well duggghhhh, they don't care, so why are you going to waste their time?
Yet too many sales people shoot straight for the top, "Ms. CEO, I'd like to talk to you about why our paper clips are key to achieving your strategic goals…..  Have important papers ever become unclipped and disorganized in your briefcase?"
Calling at the top is just pure laziness, and customer have broken that code.  Gatekeepers will do their job.  Not only will they stop these calls, but they will recognize you haven't taken the time, or demonstrated the respect and professionalism to research the company to call at the right levels.  These gatekeepers will do their job and prevent you from wasting anyone else's time.
We have to call at the right levels in the organization.  That's with people who care about the problems we solve!  They either own the problem, are significantly impacted by the problem, or have some accountability in fixing the problem.  Yes–ultimately the buck stops at the top of the organization, but that doesn't mean the problem is on their priority list or that they care.
We have to do our homework about each organization we are calling into, making sure we are identifying the people who are most likely to care, calling on them, engaging them in discussions about their businesses.  It is good to start high–but not at the top, at the highest level that cares or has a vested interest in the issues we can address.
We can't just start high, but we have to call wide, engaging the key people and those that influence them in these issues.
I've shared this story before, but it bears repeating.  Years ago, when I ran a large sales organization, one of my Regional VP's learned that I had a relationship with the  CEO of our very largest customer (a Fortune 10 company).  It turned out he had been a mentor of mine at IBM.  This Regional VP wanted to exploit my relationship, getting me to introduce him to the CEO.  I kept trying to talk him down, saying it really didn't make sense.  But the Regional VP was singularly focused on this–I decided it might be a great learning/coaching opportunity.
I called the CEO, after exchanging pleasantries and catching up, I said, "Mike, can I ask a big favor?"  I went on to explain the situation to him, he chuckled and reminded me that I had tried to do similar things early in my career.  He agreed to meet with us, but I had to buy dinner in his favorite restaurant that evening.
The Regional VP was ecstatic.  He did a great job preparing for the call, reviewed his call plan, and was "prepared" to exploit the opportunity.  We went to meet with Mike, both of us were a little awestruck–his office suite was bigger than our two houses combined.  We sat down, the Regional VP started the call, asking about Mike's priorities, goals and so forth.  He quickly channeled the conversation to the things we did. The Regional VP asked Mike his perspectives about key issues our customers faced and his views on them.
Mike thought a moment, he glanced at me and I could tell what was going to happen by the look in his eye.  He politely responded to the Regional VP, "To be honest, I never think about those issues, and frankly don't care.  I am concerned about these things……"
The Regional VP wasn't to be deterred.  He basically recited his version of "for the loss of a horseshoe, a kingdom was lost…."  But Mike wasn't buying it.  He said, "I'm sure somewhere in this multibillion dollar organization there are people concerned with horseshoes and are protecting us."
Mike then did something unusual.  He pulled up his organization chart.  He said, let's figure out who cares.  I forget the details precisely, but we navigated through the charts and the divisions.  We found someone with a Senior Vice President title.  I think he was about 5 levels below Mike, maybe a few more.
Mike said, "I don't know this guy very well, but I think he is the highest level person in our company that cares.  You probably should be starting with him."
My Regional VP learned a great lesson.  I had a fantastic but VERY expensive dinner with Mike that evening and we chuckled over the error my Regional VP made  (and Mike kept reminding me that I had done the same thing as a sales person).
So calling at the top is useless—unless it isn't.  By that I mean, we need to call high–but with the highest level person that has a deep vested interest in what we can do to help them.  Any higher is wasting the customer's time and our time.  We don't create value in those calls, we actually create cost–diminishing our position.  We have to call at the right levels and call widely, covering everyone that has an interest in the issues we address.
Stop wasting your time and your customers' time by trying to call at the top.  You're just doing the wrong thing.
For a free peek at Sales Manager Survival Guide, click the picture or link.  You'll get the Table of Contents, Foreword, and 2 free Chapters.  Free Sample