Imitation May Be A Sincere Form Of Flattery, But It's A Loser's Strategy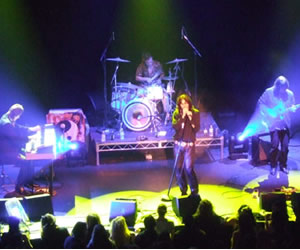 It seems imitation is rampant, we're surrounded by it.  Often there seem to be more imitators–copy-ers than innovators and leaders. 
In the music world, we see all sorts of tribute bands.  (I'm a fan of a Doors tribute band, Wild Child, –their lead singer is Dave Brock.  I keep trying to convince folks that's me playing Jim Morrison).  These bands are great, but they never achieve the greatness of the bands they are imitating.  They always be just what they are, facsimiles of the real thing.   In the case of tribute bands, we know they are imitators so, as customers, we don't feel cheated.
We see "imitation" with counterfeit products–clothes, watches, shoes. software.  In China, there are even counterfeit Apple Stores.  These imitators try to fool you, making you think they are just the same as the original, but they never are.  Somehow, there is a real difference between a Rolex and a Rolecks.
In business and sales we see too much imitation.  Following the same business strategy as our competitor, matching their products feature for feature, but never surpassing them.  Copying our competition with, "we can do anything they can do."  (This is usually followed by the words "cheaper." )
If we aren't careful, responding to our competitor's moves in a sales situation can become a form of imitation.  We can end up mirroring the competitor.  Not outselling or outcompeting, but looking the same.  Not setting the stage for success, but responding, copying, saying "me too."
Sometimes the imitator, or copy-er will win.  Usually, the folks that say "we can do the same, only cheaper."  But it's not a sustainable strategy for success.  You are always playing catch up, you are always comparing yourself to something better (after all, that's the crux of imitation).  To continue as an imitator, you are totally dependent on the person or company you are imitating.  You can only compete on the basis of the "rules" they establish.
Customers really need more than imitators.  They need innovators, they need leaders.  Customers need suppliers who can help them look at their businesses differently.  Sales people who can help them see new opportunities to grow or better achieve their objectives.  Customers want sales professionals who will work with them solving tough problems, they don't want some one who can just follow or just copy.  Too often, when a customer succumbs to the "me too, only cheaper" argument, they end up feeling cheated.  These companies can't really solve their problems, they can't really offer leadership.  The customer is stuck, trying to figure it out themselves, getting no help because there is none there.
The secret of business and sales longevity is not in saying "me too," but it's in innovating, constantly improving, constantly moving forward, differentiating what you do and how you do it from everything else.  Leaders worry about their competition.  They watch, the analyze, they understand the competitors' strategies.  But in dealing with competition, leaders don't copy.  They differentiate, they constantly demonstrate their superiority, they are constantly upping their game, making it tougher for the competitors to copy and imitate.  The leader's response to competition is very different than the copy-ers.
Imitation is easy, anyone can copy something, it doesn't mean they can solve a customer's problems.  Being the real deal is tough, but it's what sets those leaders apart.  They are the people customers will listen to.  They understand what the customer needs to do, providing a clear path to solving the problem.  Over the long tern, the success of these people and organizations far outshines all the imitators or copy-ers.
So how are you competing?  Are you offering real leadership, are you contantly innovating and improving?  Are you challenging your customer, are you presenting them new ideas.  Is your differentiation distinct and sustainable?  Or are you just following the crowd, playing catch up, trying to get the few crumbs left behind?
Afterword:  I originally started to write this article out of anger.  I had discovered an "imitator," someone who was liberally copying my material and claiming it as his own.  I was angry–I still am.  I was going to write an article on the evils of plagiarism, lashing out at this clueless soul.  Then I realized it's a no win–it distracts me from offering my clients and readers some insight and leadership.  Competing, growth and success has little to do with the imitators and copy-ers.  They can't make a difference.
After-afterword:  That cool dude in the picture is Dave Brock of Wild Child.  He's not bad.  Me–only in my dreams, though I do a mean version of Light My Fire.
Leave a Reply