Earning Our Way — No More Excuses!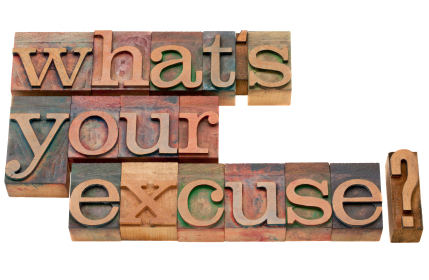 It distresses me, but too often I encounter people with "entitlement" attitudes.  They express this in various ways, "I work really hard, why don't I get the promotion?"  "I put in a lot of effort on this proposal, why didn't I get the deal?"  "I've worked for this company for years, why are they treating me this way?"  The list goes on, but generally the themes are focus on effort, longevity, loyalty, and often dwelling on past contributions, not current performance.
But in encountering high performers or great leaders, the attitudes–and resultant actions are completely different.  These people don't focus on effort, or anything else.  They don't focus on yesterday's success, but what they have to do today and how they move forward.  These people have attitudes of earning their way every day.  Whether it's earning the ability to have their job, or earning business from a customer, or earning the trust and respect of their colleagues.
To be successful, over the long term, it's critical to adopt an attitude of earning our way, every day.
It's not as tough as it sounds, in most cases, it requires a little mental shift.  Here some ideas, I'd love to hear yours?
What new have you learned today?
What are you doing today to make yourself better than you were yesterday?
What value did you create in each meeting or call with a customer today?  Would each customer say it was a great investment of their time?
Did you have a written plan or checklist identifying  and prioritizing what you needed to achieve today?  Does that plan tie directly to your overall performance goals?  How much of your plan did you achieve?
What did you do to help a colleague or teammate today?
How many deals did you move forward in a meaningful way today? (Be honest with yourself)
What new did you learn about your customers' businesses today?  How can you apply that knowledge to helping them solve their problems and achieve their goals?
Did you take the time to thank the customers you met with yesterday and to outline follow up notes and next steps?
What did you learn about your competition today?
What did you identify as a time waster and stop doing?
What are the top 2 things you have to do on each of your top 5 deals tomorrow, this week?
What do you need to be doing about your other deals?
What did you do to prepare for tomorrow?
What excuses did you make to yourself or someone else today?  What are you going to do to stop making those excuses?
How many times did you complain?  Do you understand why you complained?  Have you developed a strategy to address the issue and stop complaining?
Earning our way is a frame of mind.  It's about approaching our work, everyday, differently.  It's about being engaged in what we are doing, in who we are working with, and in moving things forward.
Are you earning your way today?