Too often, we tend to think of our value propositions as static.  Effective value propositions will change as we execute our sales process.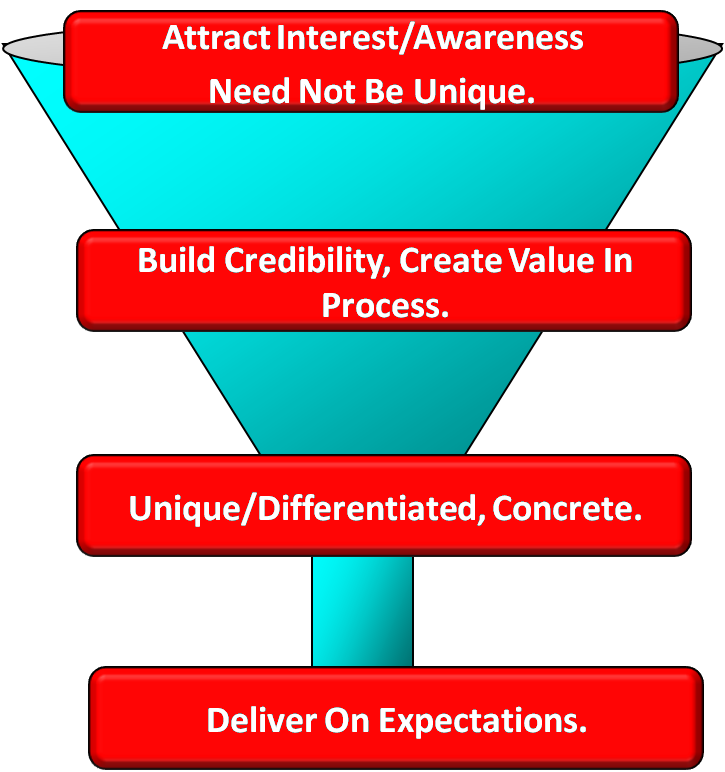 Early on, as we are prospecting and early in the qualification process, the value proposition needs to be only compelling enough to capture the customer's interest and to get them to consider your solution as an alternative to consider.  We don't have to be differentiated, we don't have to be superior, we only need to be good enough to be invited to the party.  The generic or segment focused value propositions developed by marketing are typically focused on performing this function.
Don't be mistaken, these value propositions are important.  They need to focus on hot buttons and critical issues customers face, they need to be meaningful and compelling within the industry or the segment of customers we seek to interest in our solutions.  They have to be visible to those customers, attracting their interest and getting them to invite us to meet and discuss how we might help them.
Once the customer has qualified us, and we have likewise qualified them, the task for sales changes.  We have to learn what the customer seeks to do.  We have to understand their problems and challenges.  We have to learn what they seek to achieve.  Frankly, it is during this discovery process, that our "value" becomes most important. 
Customers don't know how to buy.  Early in the buying process, and in our selling process, we create great value by helping them understand how to buy.  As Sharon Drew Morgen terms it, we become facilitators of their buying process.*
This is a critical element of our success and our value delivery that is too often overlooked by sales people.  We nominally identify their needs and rush to proposing a solution.  Facilitating their buying process creates great value and differentiation—since your competitors are probably not doing it.
As we move into the proposal and closing phases of the sales process, our value proposition must change.  We must move from the generic value proposition that got us in the door, to specific, concrete, and differentiated statements of what we can do for the customer.  Our value proposition must address the needs and priorities our customers have identified (each person involved in the decision).  It must be concrete, that is it must identify in quantifiable terms what the customer will get out of implementing our solution.  Finally, it must be differentiated (and superior) to all the alternatives the customer is considering.
Our work on our value proposition does not end once we've gotten the deal!  Now we have to deliver the value we have committed.  This is where the rubber meets the road, it impacts our reputation with the customer and our credibility as solution providers, overall. 
 *  Sharon Drew Morgen has written a great book on Buying Facilitation.  Get Dirty Little Secrets, it's a valuable read.