I Thought I Had Solved World Hunger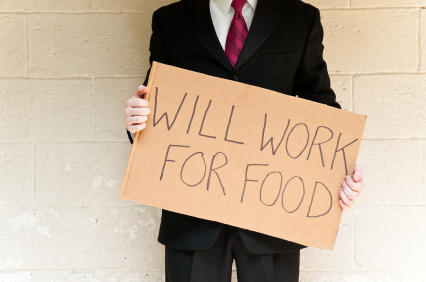 Not long ago, my wife had to be away from home for a week. It happened to be a week that I wasn't traveling so, I had to fend for myself on meals. The first day, I struggled with what to do. The easy answer was to go to a restaurant. But I spend too much time on the road in restaurants. I considered take out, but that seemed to be a variation on the same theme.
Then I discovered something amazing—and it was less than a half mile from our house. It was this thing called a grocery store. It was an amazing discovery (I've led a sheltered life). I walked in and found all my meal and eating problems had been solved!  I could get everything I wanted.  Imagine that, all the answers to my food and eating problems right there–less than a half mile from my home.
As I'm prone to do, I started thinking of the broader implications of my discovery.  Did others know about this?  Perhaps so many people are blind to the fact that grocery stores might be just around the corner.  Perhaps the solution to world hunger was at hand, I just had to make this visible to the world through my blogging, writing, and speaking!  It was so simple….
When I read many of the books, blogs (including my own), or listen to speakers on sales, marketing, leadership and business strategy, sometimes, I think we have just discovered the local grocery store.  We do some thoughtful research, but on a very narrow set of premises, discover some patterns, some things that work, then immediately declare, We Have The Answer To Your [fill in the blank] Problems.
It could be a prospecting approach, how we present our elevator pitch, developing our value proposition, winning deal strategies, how to coach, how to lead.  It could be about how we measure and compensate our people.   It could be new approaches to marketing, or any number of other things……
Sales 2.0 companies and many of the "solutions providers" do the same thing.  They have something that helps certain situations, certain parts of the process.  These solutions truly provide value but to a certain small set of problems and customers.  Too many, however, position themselves as the answer to a sales person's success or a sales manager's performance problems.
We all tend to position ourselves as having "the answer," but after all we are selling something as well.
I was reminded of this the other day by a very thoughtful reader.  In my post, Order Taker or Solution Creator, a very bright commenter wrote, "but Dave, sometimes all a customer wants is to know features and functions and to place an order.  When they want that, I'll be an order taker.  Sometimes they want to be challenged, when they want to be challenged,  I'll challenge them."
Sales, marketing, and business is complicated.  There are no simple answers or miracle cures.  There is no right or wrong way.  There are lots of bright people who have great ideas, tools, approaches.  Things worthy of reading, understanding, applying.  Some solutions and approaches help some of us — for example, I tend to write a lot about complex selling situations, so hopefully, my advice and experience is valuable to those involved in those situations.  But it's probably not very useful to those who are involved in transactional sales situations.
What I learned from Natalie's comment is that great performers are truly adaptable.  They learn lots of different approaches.  They  are skeptical, they know "one size does not fit all."  They don't blindly drink the latest batch of Kool Aid, regardless of how popular it may seem.  They know there are no miracle cures or get rich quick solutions.
Great performers are constantly reading, learning, evaluating, and adopting.  They take a great idea, combine it with other great ideas, and execute what's appropriate for the situation they are involved in.  For another situation, they do something else, leveraging other ideas that are more appropriate.
There are lots of great books, bloggers, speakers.  There are great tools and great ideas.  The variety of ideas and approaches, in fact, inform us there is no single path or approach to success, but there are many different ways.  Great performers look at, study and understand all of these.  They continue to learn, they continue to to explore.  Most importantly, they adapt approaches that are appropriate for the situation.
Be skeptical.  Don't look for silver bullets.  Don't accept someone's cure for every problem you have.  Collect lots of approaches, tweak them and own them for yourselves.  Think about each situation and use whatever is most appropriate for the situation.  Realize there is not just one path to a solution, but there are different paths–choose the one that works best for you.
Hold me, and people like me accountable.  When we start talking about the miracle cure, push back.  Make sure you understand the specific circumstances where it works.  Make sure you understand the limitations.  We'll all grow, learn, and improve our effectiveness.