"But Will I Sound Too Salesy?"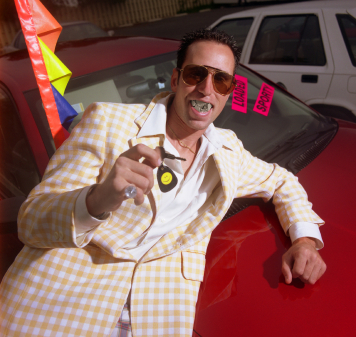 I just got off the phone with a business owner.  We were having a great conversation about how he and his team were growing the business.  We were talking about some of the conversation he was starting to have in selling to larger enterprises and struggles they were having in their conversations with these customers.  We went through the conversations, discussed how he might shift the direction, focusing more on their needs and the business value his company would create.  At one point, he said, "But doesn't that sound too sales?"
It's something I hear all the time.  I expect it from business owners or non-sales professionals who are involved in sales situations.  I also expect this from new sales people.  Surprisingly, I also hear it a lot from experienced sales people.
This morning when "Tony," expressed that concern, for a moment I was stunned.  I didn't know what to reply.  The question just didn't make sense.  Then I asked, "Why are they on the phone with you in the first place?  They know you are selling them something, yet they are volunteering to participate in the call.  So why don't you want to sell?"
People don't enter into conversation with sales people just because we're nice people and to have friendly chit-chat.  They know we are trying to interest them in buying our products and services.  They expect us to be "salesy." We shouldn't be on the phone with prospects just for a friendly conversation or aimless chit-chat, that's a waste of their time and ours.  Our purpose is to help them identify ways we can help them to improve their business and achieve our.  Trying to hide or dance around our objectives is dishonest and misleading.
But Tony's concern is real and something we encounter every day.  We get way too many calls that are way too "Salesy."
These are the calls from people who haven't researched you, who don't know anything about your business, or whether what they are selling is something that might create value for you!
These are the calls from people who don't ask you about what you are trying to achieve, opportunities to grow your business, opportunities to improve your business.  All they do is blindly pitch a product and ask you to buy.
These are the calls, from people who are more concerned about getting the order than producing an outcome for you.
These are the "Salesy" calls that give all sales people a bad name and make customer genuinely suspicious and apprehensive about calls with sales people.
But there are the calls where you and the customer are moving through a buying/selling process.  They know it, you know it, no reason to hide from it.  But those calls are different.  They are focused on the customer, what they are trying to achieve and how we can help them do it.
They are the calls that focus on them—things they can do differently, things they can improve, opportunities they can seize.  And they are about how they can achieve these things through our products and services.
Each conversation needs to move the customer and us through the buying/selling process–otherwise we are wasting each other's time.
When a customer engages in a conversation with a sales person, they know you are trying to get them to consider something new or different.  They know that your are trying to get them to change.  They know you are trying to get them to buy.  They know you are trying to sell them something.
But the conversation is never too "Salesy" as long as we are constantly driven by the value we are creating for the customer, the WIIFM from their point of view, and how we help.