Visit enough social networking sites, LinkedIn questions, and sales forums, and you will see questions like this:  "What's a killer question to ask a customer?" or  "What's a killer value proposition that will win?" or "What's a killer close?"
Someone is always looking for the "killer" approach, as if you can answer that independent of the customer, the situation and the solutions you represent.  Is the killer question I ask a consumer looking to buy a new car the same killer question I ask a CEO investing millions of dollars restructucturing his organization and strategy, or the same question I ask an EVP of sales looking to improve the productivity and effectiveness of his sales people?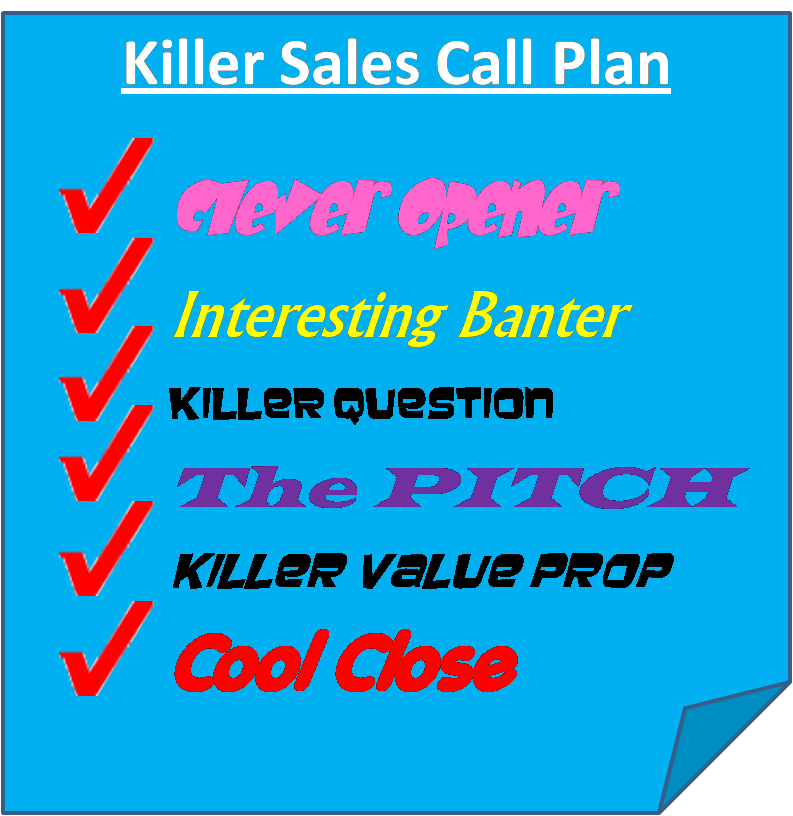 I'm distressed the question is asked, I'm even more distressed reading people that answer with killer questions, value propositions, fantastic pitches and the latest greatest closing technique.  As if selling can be reduced to a sequence of gimmicks:  The Clever Opener, Interesting Banner, Followed By The Killer Question.  Don't worry about listening for an answer because you are preparing for The PITCH — why people absolutely should buy your product — even though you don't know what they need.  After the PITCH you move to the Killer Value Proposition, usually something about being the best in the world, and then on to the Cool Close.  Wrap up that meeting, go to the next customer and recycle the same stuff.
It seems people believe they can string together all these elements–almost independent of the customer–checking each one off as they go, maybe stopping once in a while to listen to the customer, then moving on the the next item to check off until they have worked through the call and are ready to try one of the latest cool closing techniques.  Apply these "killer" approaches and close more sales!
Professional selling is not about the mindless execution of techniques (customer attendance purely optional).  Sales is about engaging the customer in a meaningful dialogue about their goals, needs, and problems.  It is about discussing how you can help the customer achieve their goals and the value your solutions provide the customer.  Professional selling is a collaborative process helping the customer through their buying process. 
Selling is not about techniques, tricks, "killer" anything.  People claiming to be able to train you on the killer questions, super closes, or slick value propositions are as good as the snake oil peddlers of the past.
Great sales training will focus on processes for planning and executing the sales call.  For example, Neil Rackham did not talk about Killer Questions To Ask A Customer.  He focused on a questioning process—SPIN–that is very powerful in determining what the customer wants to achieve, quantifying the impact of the problem, and testing the urgency around implementing a solution.  He doesn't teach you great questions, he teaches you how to develop great questions—appropriate for the person you are calling on and their situation at the moment.
My friend, Jill Konrath of Selling To Big Companies, will not give you a dozen cool value propositions.  She will coach you in how to develop your unique value proposition—one that's appropriate for the customer, what they are trying to achieve, and which presents your abilities to help them achieve that better than anyone else.  Hire Jill as a coach and she will give you advice and tools for developing value propositions, but she will never give you the killer value proposition—that's your job to determine with each person involved in the sales process.
These processes and tools to help you think about your customer, their situation, your ability to help them solve their problems.  Killer sales calls exist, I see them executed every day by great professionals (I even execute one every once and a while).  They only exist in a specific context of a customer, their situation at the moment, and your abilities in the call.  Each killer sales call is unique—the questions are unique, the value proposition, the presentation, and close.  But killer sales calls are planned and executed using great processes.
I could go on, but you get the point.  Effective selling is based on thoughtful, disciplined work.  There are great processes to facilitate your ability to sell and engage the customer, but there is no magic or trick.  If you are looking for these, you are in the wrong profession.