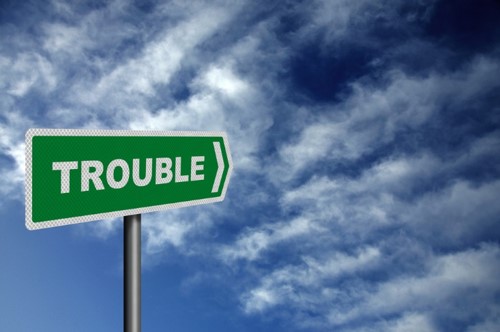 There is trouble all around us, it's a part of business and a part of our lives.  We all experience trouble of varying degrees throughout our lives.  Often, we seek to avoid trouble, often we should be seeking the opposite.
There are a few different mindsets we can have regarding trouble.  We can hide our heads in the sand, we can deal with it when it happens, we can look for trouble, we can create trouble.
Hiding our heads in the sand:  Through unconsciousness or purposefully, we often ignore or avoid trouble.  It could be the unhappy or difficult customer, it could be the poor performing sales person, it could be that "little" competitor.  We live in business and personal worlds of constant change.  Too often we may not be paying attention to those changes and their potential impact (positive and negative).  Too often, we get complacent.  Things are going well, we stop paying attention.  Perhaps related to complacency is arrogance.  We may be the top in our company or the top in our markets, we get arrogant, thinking no one could beat us or we take things for granted.
Not paying attention is a guaranteed route to failure–or at best, mediocrity.
Dealing with it when it happens:  Perhaps most of us are great at responding.  We're agile, nimble, able to move fast.  We've been trained to "solve problems," so we move mountains when problems occur.  But this "react" mode makes it difficult for us to achieve our goals, to grow, and differentiate ourselves.  We get diverted from the execution of our strategies, we have to respond to external disruptions.  It's kind of like the carnival "bumper cars,"  it becomes very difficult to be where we want to be, because things keep diverting us.  In sales this is particularly dangerous, it's often our competitors setting the direction and driving the customer buying process, and we respond as best we can.
We can't anticipate everything, we have to be effective and efficient in responding to changes and disruption, but we have to quickly move back to proactively driving our strategies and achieving our goals.
Looking for trouble:  Some people ardently chase trouble down.  They are continually looking for problems and opportunities–problems our customers have, problems within our own organizations, problems in our own performance.  They know that trouble is an opportunity to learn, grow and improve.  It's an opportunity to change and be changed.  Rather than those who avoid it, these people hope to identify and seize opportunities early.  They know they earlier they identify problems and opportunities, the greater their options for determining how to best address them.
Creating trouble:  And there are those who create trouble–here we have to be careful.  You may think I'm building to a set of behaviors and attitudes we should all have.  Certainly, there's a positive aspect of creating trouble.  Disrupting what we currently do, thinking of new methods, new approaches, new opportunities can be very powerful.  Innovating, changing our view of the world and driving improvements know one has conceived is very powerful.  These are opportunities to grow, thrive, improve.  These troublemakers are builders, they seek to create new things and value for others.
But there's a dark side to creating trouble.  It's ignorance, selfishness, thought-lessness, maliciousness, and hatred.  There are those that seek to create trouble that is destructive, they play in the cold politics of winners and losers, always positioning those that don't support them as losers, seeking to destroy them.
Creating trouble is a double edge sword, what kind of trouble we create is driven by our intent.
What kind of troublemaker are you?
There's a series going around the web about people's First Seven Jobs. It's been fun and fascinating to see the very first jobs people held. There's a diverse selection of people's first seven jobs here, Fred Wilson, Brad Feld, and Keenan.
I jumped onto the bandwagon with my first 7 jobs. In the comments, you can also see Hank Barnes' first seven.
It's actually a huge amount of fun–first thinking about your own, reflecting on what they meant to you (privately) and seeing others' experience. Consequently, I've invited a huge number of people of diverse backgrounds, ages, and locations, to share their first 7 jobs. I'll be posting them weekly, usually on Sundays. Feel free to join in, send your first seven jobs to me by email (dabrock@excellenc.com). I'll post them in the order I get them.
This week, we have two more fascinating people, Kathy Dyer and Chris Ahearn
Kathy Dyer, Retired.  Vice President of Product-To-Market  Far East, NCR Corporation

Waitress at the Big Burger drive-in/eat in in Yuma Arizona

Waitress Huddle In Pancake Restaurant in Yuma Arizona – $.80/hour plus tips.

Engineering Aid- Yuma Proving Ground- largest environmental testing facility in the world at the time(may still be); run by US Army and used by us and our allies to test equipment in extreme environmental conditions.

Operating System Programmer on NCR Century series mainframes.  Developed 'disc verify' error routines for disc peripherals. This was back when the only computers were in locked computer rooms with raised floors.

Software Development Manager for communications software for front ends to NCR mainframes.
Program Manager– communications solutions for financial industry customers- NCR Comten.
NCR District Sales Manager in NYC for single account district – NCR's largest single Financial account in the world at the time–Manufacturers Hanover Bank. Manny Hanny long since been absorbed into Chemical bank which was then absorbed into Chase.
Chris Ahearn, Senior Advisor, TPG Capital.

1. Baby Sitter – mostly for my parents friends. Kids were pretty much old enough to take care of themselves.
2. Summer Ranch Hand – milking cows (by hand), collecting eggs, fixing fence, cutting, bailing, slipping and stacking hay, outfitting, etc. The best summers of my life.
3. Dish Washer – Mazola's Italian restaurant. Ya' gotta' start at the bottom in the restaurant business.
4. Pizza Chef – Mazola's Italian Restaurant. Head chef was medal winner a few years later at the Winter Olympics.
5. Bag Boy – mostly picking the range, cleaning carts and running to the top of the hill to fetch bags.
6. Rental Dock Attendant – hourly rentals of small McGregor boats.
7. Rental Marina Manager – responsible for fleet of 100 rental boats, four ski boats, 40 passenger tour boat, repair shop, and the bane of my existence – bumper boats.
Thanks Kathy and Chris!
Please share this with #myfirstsevenjobs.
Send yours in, ask your colleagues for theirs. Learn, Have Fun!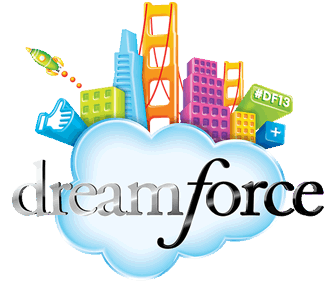 In a few weeks the annual migration to Dreamforce will occur.  I've only been to a couple of events bigger than Dreamforce, but it's an "interesting experience." Somehow, I'm certain the city of San Francisco sits a little lower in the water with the 150-180K people that converge on Moscone Center during the few days.
I was asked my tips for getting the most out of Dreamforce.  I'm not sure I'm a good source of advice, but I thought I'd share my experience.
1.       Develop your plan and schedule well in advance,  There is so much happening, so many interesting sessions and people, spread across San Francisco.  If you don't develop your plan well in advance, you'll miss out on a huge amount.
2.       Don't focus on just the "Dreamforce events."  While Dreamforce is the draw, a lot of other companies have seminars/workshops/discussions in the proximity of Moscone Center.  Some are quite excellent, make sure you take advantage of them.
3.       Set meetings with people you want to see.  My typical day at Dreamforce is:  3 breakfasts, 2 morning coffee meetings, 4 lunches, 1 afternoon coffee meeting, 3 cocktail parties, 2 dinners and a late night workout in the gym.  Last year, in the whole event, I only had time to attend 2 sessions.  But since Dreamforce attracts so many people I want to see or those who want to meet with me, it's an awesome place to get together and accomplish a lot with a lot of people.  Check out if the people you are interested in meeting will be attending.  Arrange meetings well in advance.
4.       Make the meetings walking meetings.  This is a change for me over last year.  As you can see from the previous point, I spent most of my time at Dreamforce in restaurants.  There are two huge disadvantages to this.  First, all the restaurants, bars, cafes, Starbucks anywhere close to Moscone are packed with other people doing the same thing.  You either spend too much time waiting for a table or you have to go someplace several miles away (and Uber is overwhelmed during Dreamforce).  Second, as you would guess, the caloric intake is overwhelming.  You get a lot more done and feel better by making your meetings walking meetings.  Plus you see some of the cool areas that are being built up south of Mission or by the Embarcadero.
5.       Do take time to see some of the "main tent" and workshops sessions.  There is so much cool stuff to learn at Dreamforce.  Some interesting keynote speakers, Marc Benioff is fascinating—but see him talk about social programs–not the latest coolest products.  Go to at least 2 sessions that you normally would not choose to attend.  To be honest, if you stay on one track, e.g. sales, marketing, customer service, you start hearing too much of the same thing over and over.  Go to a few sessions most distant to what you do every day and listen to them.  You'll learn a lot and be able to figure out how to apply some of the ideas to your role.
6.       Be prepared to walk, stand, sit — a lot.  Make sure you have a bag you can put all the "stuff" into, leaving your hands free.  Wear comfortable shoes and comfortable clothes.
7.       Go with an open mindset.  Maximize your learning opportunity, meet new people, have fun!
If you're going, it would be great to meet up–we'll go for a walk 😉