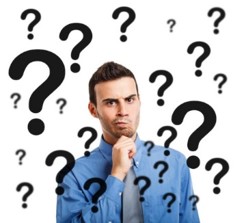 I spend a good amount of time calling on the customers and prospects of my clients.  Recently, I was doing some win reviews.  We were very interested in learning more about why these customers bought from my client.  The key competitor was much larger and the dominant force in the industry.  Winning against them was a real coup, we wanted to learn more about how we could repeat that.
The competitor, like my client, had a very broad product line.  There were significant overlaps between the product lines, both those of the competition and those of my client.  So the customer was slightly confused and concerned about which solution from each vendor would best fit their requirements.
My client spent time understanding what the customer wanted to achieve, probed, asked some questions, talked to many of the people that would be using the solution on a day to day basis.  Finally, they determined the best solution for the customer, recommended it, explaining why they were recommending that solution to the customer.
The competitor had a very different approach.  They were strongly product focused.  They were organized around major product line groupings—it's a fairly common thing.  They had product divisions with product managers, marketing, sales, customer service.  Each product division was focused on maximizing their own growth and share of the market.  They knew there were overlaps between the products, but thought the "healthy" competition between divisions would drive stronger growth overall.  In some ways, from the company point of view, that wasn't a bad strategy.
The problem was, from a customer point of view it looked very different.
They had two different sales organizations (actually channel partners of the competitor) calling on them, selling the competitor's products.  Each, representing their solution was the best fit for the customer.  Naturally, the customer was confused.  They thought, "Both solutions can't be the best solution for us, which is the solution from this vendor that is really the best for us?"
Every time they challenged the sales people representing this competitor, they kept coming back, saying their solution was the best solution.  In the end, they were forcing the customer to figure it out for themselves.
In interviewing the customer, they repeatedly said, "It's not my job to sort through your offerings.  I expect the sales person to understand us, what we are trying to achieve, and recommend the single best solution to achieve our goals.  After all, they know these solutions far better than we do.  Plus we just don't have the time to figure it out."
They cited my client's approach.  "They had overlapping products, when we looked at them, we were very confused about what would be the best for us.  But that's where the sales people stepped in, making it easy for us to buy.  They spent time understanding what we wanted to do, presented a single solution for us, explaining why they had chosen that solution over the alternatives.  It made it simple and easy for us."
The strategy adopted by my client's competition isn't that unusual, we see all sorts of manifestations of it.  When I first started selling at IBM, we had two computer divisions–one selling high end computers, basically focused on large enterprises, the other selling mid range business computers, technically focused on small/medium businesses.  But the product lines started overlapping, and there were different implementation alternatives (a company could install a large central computer, or there could be departmental computers).  I would sometimes find myself competing against the sales people from another division.  Fortunately, we had a process for working this out internally, so we could go to the customer with the single best solution.
Organizing by product lines is a very common business strategy.  There's some great power to this, but if we inflict our organizational structure on the customer, making it hard for them to buy, they'll always default to the easy to buy choice.
There are other forms of inflicting our organization on customers which make it difficult for them to buy.  Sometimes we have organizations that have differentiated, complementary products.  For example, Sales Automation Tools, Marketing Automation Tools, Customer Care Tools.  If our sales teams believe they are competing for the same customer dollar, they create great confusion for the customer by competing against each other, rather than saying, "Based on your strategies, priorities, and needs, you should start with this tool…"  Or better, collaborate with your peers, develop a strong business case and implementation plan to buy more than just one of the tools.
I'll stop here, you can think of many examples yourself, perhaps even within your own organization.
However we organize ourselves to develop and manage our solutions, in developing our go to customer strategies, we have to think about, the customer buying experience and how we help them select the single best solution we can offer.
I'm constantly amazed at the fear that strikes at the hearts of sales people with the mention of the word, "Prospecting."  While it doesn't strike fear into my heart, it's still something a don't like to do  (though there are ways to make it more enjoyable).
It's also interesting to hear all the reasons and excuses sales people dream up to avoid prospecting, "I have a proposal that's due, I have a meeting on this deal, I'm busy prepping the demo for that deal…….  The dog ate my prospecting script."  There's no end to the creativity to the reasons why we can't find the time to prospect.
To some degree not wanting to prospect is a basic sanity test, "Do you want to spend your time interrupting people's days?  Do you want the majority of people to tell you, 'No, I'm not interested,'  ………. or would you prefer to work qualified deals?"  So it's human nature to choose the more positive option.
But, we can't afford not to prospect and we can't afford not to devote time every week to find new opportunities.  The reasoning is obvious, without prospecting, our pipelines dry up and we have no business to go after.  Then we have to spend 100% of our time prospecting (of finding a new job.).
In our company we've made it a habit.  It is the only thing we measure on a weekly basis; "Did each of us hit our target in prospecting conversations?"  We don't do it because we like doing it, we do it because with our sales cycle, if we don't hit our prospecting numbers, it will impact our business in 15-18 months.
Some of you might be tempted to say, "That's so far off, you can afford to blow it off for a while."  It's actually quite the opposite, the longer your sales cycle, the more important it is to strictly adhere to a regular prospecting cadence.  In long sales cycles, an empty/anemic pipeline has huge impacts over a longer time and is very difficult to recover from.
In spite of everything else that occupies our time each week–doing deals, delivering services, working with our clients, participating in conferences, writing blog posts, we have to prospect every week we have a specific number of completed prospecting conversations that we have to achieve.  (We measure completions, not attempts.)
It's still an unnatural act to call someone you may have never spoken to before, interrupting their days, and discussing their business, goals, and challenges.
We've done things to make it less stressful–both for us and the prospect.
We're obsessive about our research and preparation.  We know people won't view the call as an interruption if we have something meaningful/impactful to discuss.  We also know that meaningful/impactful topic has nothing to do with what we do, but it's all about the customer, their industry, markets and something that's critical for them to know now.
We also make it very difficult for the prospect to say, "No, I'm not interested."  We people don't wake up in the morning saying, "I need to buy consulting services."  We know that if we call and talk about our great experience in business transformation, virtually 100% of the prospects don't care and are going to say "I'm not interested."  But it's virtually impossible for a person to say "No, I'm not interested in learning about something that could impact my success."
So our prospecting calls are always focused on the prospect and what's in it for them.  The final question each of us thinks about before we pick up the phone is, "What's in it for the prospect, will this be a good use of their time?"  If we can't answer that question in a compelling manner, we don't make the call.
At least 70% of our calls are very warm calls.  That is, they are with people we have never spoken to before, but who we may have had some level of social engagement–whether some comments on a LinkedIn group, a blog post or other interaction.  Those calls are actually schedules, so each of us is expecting the call, and there is a pre-agreed agenda.  This makes the call much more enjoyable and productive for the prospect and us.
But it get's back to basics, you can't afford not to prospect, and you can't afford not to have a regular weekly cadence of prospecting.
It still is an unnatural act, but there are things, through research and preparation that make it much more impactful and enjoyable.
What's stopping you from hitting your weekly number?