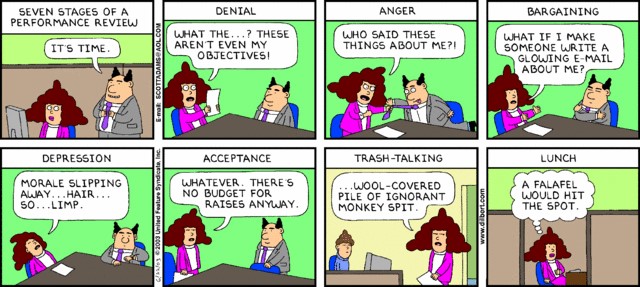 There is no doubt the performance planning and review process in most organizations is broken.  Too often, it's a meaningless annual exercise of managers and their people filling out forms, having "the conversation" then going back to their real work.
Too often, the review process has become completely detached from how managers work with their people on a day to day basis.
In my own past jobs, even at senior levels, I've had my managers hand me a blank form, asking me to fill it out, then we sit down and talk about it.  We would go through the motions as quickly as possible, sign the forms and sigh in relief that it was over–at least for another 12 months.  But we go through the process, if only to keep HR off our backs.  Then we go back to our real work.
This annual process takes huge amounts of time from everyone.  It's the time spent it completing the form, giving the review, and all the things associated with it—along with the mental distraction.  It's hours per individual, multiplied by whatever number of reviews a manager has to go through.
Couple these with the facts that these reviews are connected with, at least in theory, compensation increases as well as our future employment with the company.
As if I haven't created a strong enough case, layer this with, managers have very little training on how to do this–if anything the training is about filling out the forms.  There's often nothing about setting performance expectations, providing feedback, how to evaluate performance, and so forth.
It's no wonder there is dissatisfaction with the performance review process–both with managers and with individual contributors.
Many organizations are abandoning performance reviews completely.  Surprisingly, many never had a performance review process in place.  Many are searching for new tools to help with the process.
Ins spite of all of this, we can't escape some things:
It's our job as leaders to maximize the performance of each person on our teams.
Our people deserve and need to know what's expected of them in their jobs.
In order to improve, everyone needs feedback on how they are doing.  They need to understand where they are doing well, where they need to improve.
This may have been lost in many of our traditional performance review processes, but it's our obligation to our people and to our companies to do these things.  If we aren't, we aren't doing our jobs.
This process cannot be one of filling out forms annually.  It has to be a continuous process, first establishing performance expectations and making sure they are understood and agreed to by each person.
Establishing performance expectations isn't just about saying, "Here's the number, make it or you're gone!"  It's about how we engage and create value for our customers, it's about how we execute the corporate strategies in front of the customers, it's about how we work with others in the organization, it's about expected behaviors and attitudes, it's about skills and competencies we must develop…….
Establishing performance expectations is not something we dictate or provide on a preprinted form, but they are the result of a collaborative discussion between the manager and the employee, making sure each person understands and owns what is being committed to in the performance plan.
We use this process to set priorities, to make sure each person understands what's expected.  The plan is established as much for the leader as it is for the employee, because it's the leader's job to help the employee achieve their performance goals.  Any failure to do so must be shared by the individual and leader.
Then maximizing performance requires constant attention and feedback.  Our daily coaching provides feedback in specific areas, for example, prospecting, qualifying, deal strategies, call execution and so forth.
Periodically, we need to sit down with the individual providing feedback on the "total picture," how each person is performing against all their performance expectations.  These conversations aren't about what's wrong, they are about helping the person learn and develop to meet the expectations that have been agreed upon.
Whether it's tied to an annual process, or if it's a dynamic ongoing process, performance planning, performance management is critical to everyone involved.
Yes, there is a lot broken in performance review processes.  But if we aren't setting performance expectations, if we aren't providing our people feedback on how they are performing, if we aren't helping them constantly improve, then we aren't doing our jobs.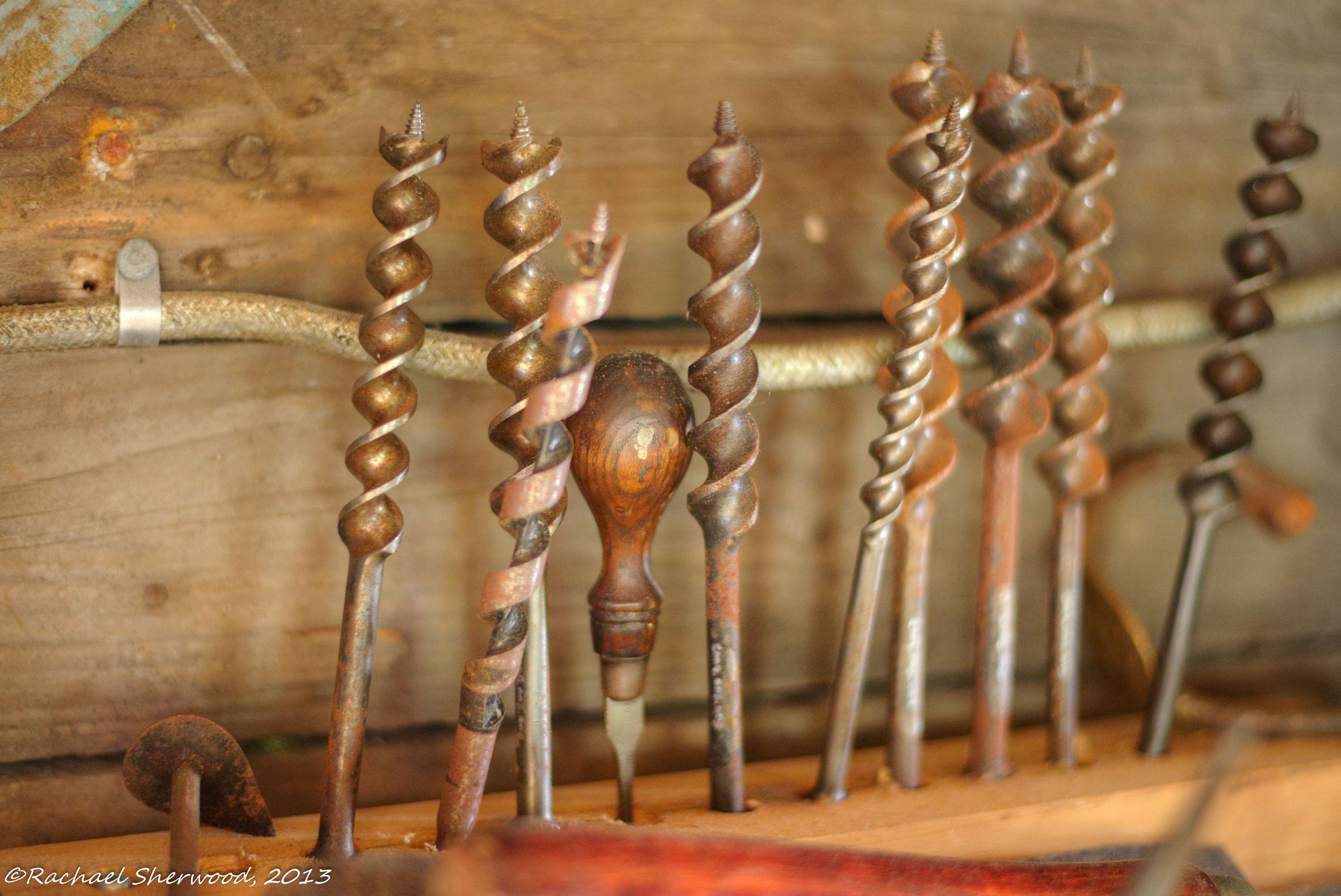 A few updates you may find interesting to peruse over the weekend.
What I'm Learning:
I'm in the middle of an outstanding course entitled:  Model Thinking on Coursera.  It's taught by Scott Page of the University of Michigan.  It's a fascinating course.  I think every sales professional should look at courses on models and systems thinking.  Not only do they help us makes sense of our own complex work environments, they provide us critical thinking and problem solving skills to help our customers.
Movies You Should See:
Just saw The Music Of Strangers.  It follows Yo-Yo Ma and members of the Silk Road Ensemble in appearances around the world.  It is beautiful visually and the music is stunning.  The movie is incredibly moving, as it explores innovation, collaboration, creativity, and preserving cultural traditions, while simultaneously driving cultural revolution.  It's a small movie, that won't get a lot of visibility, but it's impeccably produced, directed, and edited.  Take some time to look at the movie.
More widely known, Genius, is the story of Max Perkins, the Scribner editor responsible for the works of Thomas Wolfe, Ernest Hemingway, and F. Scott Fitzgerald.  Outstanding movie, provoked me to buy and start reading the book, Max Perkins:  Editor of Genius.  It's also a fascinating book.
The activity around the launch of Sales Manager Survival Guide continues to be very high.  I'll be providing links to the various reviews in a later post.  However, since many of you are purchasers of the book, I did want to provide and update on the Charity:Water campaign launched with the book.  I had launched the book with the Get Smart, Do Good theme.  In the first week of the launch, I committed to donating 100% of the profits, following the first week, through the end of August, I've committed to donating 25% of the profits.  So far, we've raised close to $3000.  This will fund water projects for over 100 people.  Thanks to all of you who've bought the book and contributed to this great effort!
If you haven't bought the book, do so now.  Not only will it help you in your own professional development, but you join the rest of us in doing good for others.
I've written about a couple of dysfunctions—Anti Sales Attitudes and the Need For Clarity and Direction.  One of the more common dysfunctions is sales managers leading from behind a desk.
Increasingly we find sales managers either trapped behind or hiding behind a desk.  It comes about in a number of ways.
Often organizations become increasingly bureaucratic and process bound.  There are endless reports (odd when many of the tools are supposed to save us time on reporting) and urgent internal meetings requiring sales management participation.  Some of this reporting is necessary.  It's important to other people in the organization to do their jobs.  We simply have to do it.
But we don't have to do it during the business day!  Schedule these administrative tasks, as much as you can, for the early morning, evenings, or weekends (Who said sales management is a 40 hour per week job?).
Sometimes, we just need to push back on the reporting and internal meetings.  We need to look at what's really being achieved, what can we eliminate.
Alternatively, managers think they can manage by the numbers.  They think that endless analysis of the numbers and performance will give them the answers to what's happening with performance.  I suspect some of these managers are a little fearful of being "in the field, involved with customers."  Reports and analysis hide the messiness and challenge we face in helping our people deal with customers.
Reports, numbers, and analysis can be helpful–if we are looking at the right things.  But even then, they give clues about potential performance issues.  They don't provide insights into why.  The only way we can understand what's driving the results shown in the analysis is by being engaged with our people.  We need to watch and listen to what they are doing.  We need to be participating in calls and meetings to understand.  We need to understand them as individuals, how they work, what's driving them, where they need to improve.
No amount of reporting and analysis provides those deep insights.
Looking at it from another point of view, if we could manage purely through the numbers, then we really don't need managers—or at least as many managers.
Management–leadership–is about people.  It's about maximizing the performance of each person on the team.  The only way we do this is by being actively engaged with them, teaching, learning, supporting, and helping them achieve our shared goals.
Anything else can, can frankly be eliminated and automated.