I've been running a series of posts on dealing with the COVID 19 and related crises. They are the result of hundreds of conversations I am having with sales leaders and sales people.
The underlying theme is "how can we be most helpful?" Being helpful, creating value is at the core of high impact and high performance selling.
As sales people, we want to continue to work with our customers in these times of crises, helping them make sense of what they face and how they move forward.
As sales leaders, we want to be helpful within our own organizations and to our people. First making sure they and their families are safe, then helping them perform at the highest levels possible.
But in the conversations I was having with people from all over the world, I started wondering, "Am I being as helpful to sales leaders and managers as I can? Could I do more?"
When I have tough questions like this, one of the people I call is Jill Konrath (I think Jill feels sorry for me and coaches me as a charity case 😉
We spoke for a long time. Jill is doing a lot of really exciting things to be helpful and have an impact. But one was so simple and obvious, I immediately co-opted it.
One of the ways Jill is helping sales people is giving them resources that can help them sell more impactfully in these times. She is "giving away" the Kindle/eBook version of one of the best books I've read: Selling To Big Companies.
That stimulated an idea for me, I should do the same with Sales Manager Survival Guide. So, I'm "giving" the Kindle/eBook version of that away.
Collectively, Jill and I hope to have an impact on sales people and leaders, giving them resources to help within their own organizations and with their customers. And through this, we are hoping you can "pay it forward" in the leadership examples you set and in how you work with and engage your customers.
By working together and helping each other out is how we, collectively, will make progress, and make the world a better/safer place.
Now, the disclaimer. Amazon makes it a little difficult to "give" something away for anything but a short promotional period. So the cheapest we can "give away" the books is $0.99. We both wish it could be free, but that's the best we can do.
Amazon gives us each $0.35 royalty on this. This gave Jill and I an additional idea for "being helpful." We could take those royalties and buy gift cards from local businesses that are really struggling. Then we could take those gift cards and donate them to someone in need (I'm taking mine to Laura's House.)
There is something wonderful about "being helpful." There are tremendous multiplier effects. Jill and I want to be helpful to sales people and sales leaders. In turn, we hope that enables each of you to be helpful within your organizations and with your customers. And through Amazon's "help," we can also be helpful in our communities.
Being helpful snowballs. Being helpful, might just grow faster than this virus. Imagine what that could mean.
Please buy Selling To Big Companies and Sales Manager Survival Guide to help yourselves. We hope they enable you to pay it forward. Please consider buying them and giving them to others, so you can expand how you might help others.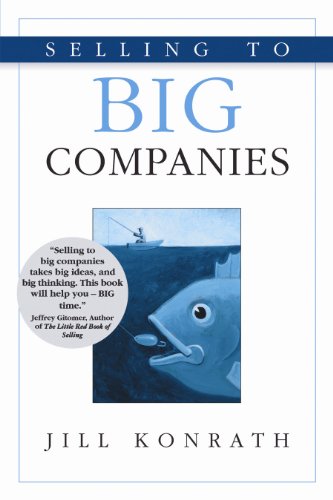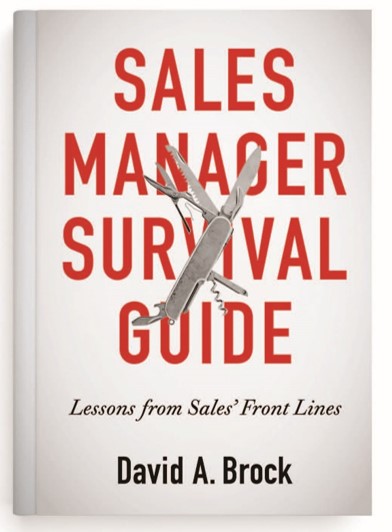 We are facing a global health and economic crisis few have ever experienced before. It's clear the only way we will deal with this is by working together, helping each other.
Over the past few weeks, I've had hundreds of calls and emails from sales managers struggling to figure things out. I have thought a lot about how I can best help sales managers step up their game in these difficult times.
As a result, I've decided to make the Kindle version of Sales Manager Survival Guide available as close to free as possible (If I can figure it out, I will make it available for free). I've marked it down to $0.99. I will keep it at this price until at least April 30, 2020.
I wrote Sales Manager Survival Guide as a pragmatic desk guide to help managers think about how to help their people perform at the highest levels possible. This is more critical now than ever before.
Even at $0.99, Amazon insists on paying me a $0.35 royalty. Through April 30, 100% of the royalties I receive for both the Kindle and hardcopy versions will be donated. My good friend, Jill Konrath, helped me think about how to get the best leverage out of these contributions. I will be buying gift cards from local small businesses in my community to help support them. I will donate those gift cards to Laura's House, a fantastic organization helping battered women.
I hope Sales Manager Survival Guide is a useful resource as you and your teams think about how you best help your customers and achieve your own goals. We will only get through this by working together for our common interests.
I've written a lot about how we should be selling and engaging our customers through the current crisis. Let me shift my attention to taking care of our own teams through the crisis.
Like our customers, each of us and our people are facing things we may have never experienced before. We are being asked to work in new ways–some of which we are ill equipped to support. We have no clear answers and are figuring them out on the fly. And things we decide this week, may have to be changed in the coming weeks.
So what do we do?
The first thing to think about, stemming from my discussions on "how can we help our customers," is "how can we help our people?" Sometimes there's the tendency to be selfish in terms of our goals and business objectives, but remember the only way we accomplish anything is through our people. If we don't genuinely care about our people and demonstrate that in what we say and do, we have failed our responsibility to them, our companies, and our communities.
Your top priority is to make sure your people and their families are safe. As much as possible, they should be working from home, they should be minimizing their physical contact/proximity with others, not only for their own safety, but for the safety of others. Make sure they understand what that means, and how they can keep themselves and their families safe. Keep providing them resources to remind them.
For those critical people that must come into the office (and there are few in sales/marketing that should be needed), make sure they are doing everything to be physically safe and you are protecting your facilities from things they may, inadvertently, bring with them. Set up sanitization resources so they can come into the facility, their workspaces, and leave safely. Wipes, hand sanitizer, washing stations, etc. are critical. Minimize what they bring and take with them, these are all potential "carriers." Make sure their workplaces are cleaned before/after they use them.
Set a great personal example for yourself. Sadly, I'm seeing the executive management teams still having meetings, still traveling, and continuing to exhibit behaviors that put them and others at risk.
Remember, in the previous 3 points, we are focused not only on their safety, but on the safety of everyone around them and who they encounter. Face to face meetings with each other, with customers not only put them at risk and put others at risk. This is unacceptable!
Where your people are directly impacted by the virus, do what you can to help them get access to the resources they need. Whether it's medical resources, support, or something else. It may be just helping them think through what resources they should be looking for.
Recognize that people are confused, frightened, and in addition to being physically isolated, they will feel socially isolated/disconnected. Constant communication is critical. Not email or related proclamations, but one on one voice communications, small group communications. Use video so people can see each other. Allow time for just social exchange, don't keep it just business focused. Make sure they have plenty of chances to ask questions of you and of each other. Encourage them to talk with each other. During times like this, you cannot over-communicate. But remember, the most important part of communicating is listening to your people.
Recognize, we may have to reset our goals and expectations for performance. Everyone is, justifiably, distracted. Everyone is frightened. While customers are still buying, they are being very focused on the most important things for them, their people, and their organizations. But, probably, our plans and expectations were developed without any of us even envisioning a "crisis." What we thought were fair goals then, may no longer be fair. It may not be possible to adjust the goals right now, but recognize, with them, that achieving these goals may be unachievable. Doing the very best we can, in very difficult circumstances, may be the only thing we can do.
Look at your comp/incentive plans, think about adjustments you may have to make. Minimize changes now, you probably don't know enough to make thoughtful changes, but be conscious that some of your people, particularly those on very high leverage plans, may be in trouble. They simply may not be generating enough income for their families to eat. You may want to suspend certain plans, you may want to provide "draws," or some other way to help them have enough money to support their basic needs and families. Most of these will be temporary adjustments. In some months, when we know more about what is happening with the virus, our communities, our companies, and our customers we can make more considered changes.
Reduce all discretionary spending that you can. Travel, event, trade-shows (these are all being stopped anyway). Some training will have to be deferred, many programs should be stopped or deferred, some software tools may be stopped. Whatever discretionary spending you can eliminate, will help avoid eliminating jobs.
Inevitably, many of us will be forced to reduce jobs, to lay off people. We need to be stewards of our businesses, but at the same time, we need to do everything we can to protect as many jobs as possible. Reducing discretionary spending is one way. I've seen the top executives of some companies reduce or eliminate their own compensation, shifting that to employees. Remember, we will emerge from this. Customers will start buying again, the economy will rebuild, we will start working together again. We want to be as prepared to address those opportunities when we can, so minimizing reductions as much as possible, positions you to be ready for, and drive the recovery.
But you may be forced to make reductions. Look out, over the long term, and try to determine your workforce needs as far out as you can reasonably see. Then, as much as you possibly can, make the reductions at one time. There is nothing more devastating to morale and productivity to see continued monthly reductions. Rather than focusing on the job, people will be worried about when their jobs will be eliminated.
Pay attention to those people whose jobs you have been forced to eliminate. Remember, it has nothing to do with them or their performance, and it is not their "fault." Do everything you can to help them, whether it is generosity in the packages you provide, whether it is, formally or informally, helping them to find new jobs (even with your competition), or pointing them to resources they can leverage for help. Above all, be compassionate, be available to listen, not just the day you give them the news, but in the days and weeks that follow. Show them you, genuinely, care and do as much as you can to help them land on their feed and recover. Keep in touch with them, continue to communicate, treat them as valued "alumni." Remember, as your company recovers and starts to hire again, these people will be the first people you may want to recruit.
Look for leaders to emerge as the organization sorts things out. They won't necessarily be the people with leadership titles, but they may be individual contributors, small teams. There will be people driven to figuring things out, helping their colleagues, helping their customers. Leverage them to help you move forward.
You won't and can't have all the answers. Your people don't expect that and wouldn't trust/believe you if you claimed that you do. They want as much clarity as you can give, they want direction, they want openness, they want to be heard, and to know that you care.
Take care of yourself, make sure you have people you can rely on to help you, to listen and coach you. Whether it's your peers, your manager, or someone else, you need your own support system.
Take time to step back, by yourself, with your management team, with some of your people. Reflect on what you are learning–from your people, from your customers, from your markets, from your community. Think about your own strategies and tactics, what's working, what needs to be changed, why, how can you improve over what you are already doing?
Believe in your team, your community, and yourself. Be optimistic, know that we will move through this.
Smile. The one thing that is more infectious than COVID 19 is a smile.
We will move forward, but only if we do so together. But remember, most of what I outline in this post, represents what managers and leaders should always be doing. The current crisis just makes the need for compassionate leadership more visible and acute.