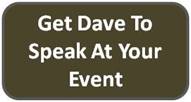 Have a kick-off or customer meeting?  Want to get your team to think differently? Want to engage your channels and other partners?  Want to challenge your people to think differently?
Invite Dave to provide a provocative, engaging discussion on a variety of topics including:
Challenging Your People And Your Customers, Changing The Game And The Rules.
Your Value Propositions Don't Work Because You Don't Understand What Your Customers Value.
Want To Maximize Sales Productivity?  Take A Tip From Your Laziest Top Performers.
High Performance Sales, 10 Things Customers Have To Worry About.
Sales Strategy Starts With The Customer.
Is Sales Intelligence Really An Oxymoron?
Vicious Disqualification, A Key To Sales Effectiveness
If Deals Are Won And Lost In Discovery, Why Do We Skip That Phase Of The Sales Process?
Sales Process, More Than Checking The Box
How Do We Find Time To Coach?
Innovation And Improvement In Sales—The Race To Create Value For Customers
The First 90 Days As A Sales Leader, Critical Success Factors
Transforming The Sales Organization, Practical Experience
The Future Of Selling Is Really About The Future Of Buying
Customer Centricity, Moving Beyond Lip Service
Our Customers Aren't Social, Why Should We Be?
Getting The Cart Before The Horse, Fallacies In Sales 2.0
Sales Is About Change—So Why Are We So Bad About Change Management?
Partnering And Collaboration—The Next Step In Relationship Management
…and many more.  Each speech and discussion is custom developed to maximize the impact on the audience and the results you want to achieve.
Dave speaks at executive meetings, small and large meetings, and conventions.  Dave conducts these meetings as a keynote speaker, panel/roundtable discussion, or workshops.  He has presented globally, in every continent (well–he's waiting for an invitation to Antarctica)
Call Dave to explore what you want to achieve and how he can help!  Phone him at +1-949-334-7146, or email him at dabrock@excellenc.com